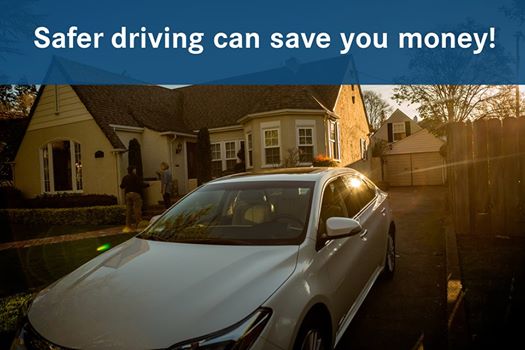 By AARP Driver Safety
This June, AARP Driver Safety is recognizing National Safety Month because we know safer driving saves lives. Safer driving can also save you money on car insurance premiums or costly vehicle repairs. However, safer driving isn't possible without an alert, cautious driver. This month, concentrating on the following three aspects of the driving experience can help you be a safer, smarter driver:

1. A healthy driver is a safer driver.

Just as your car needs regular maintenance and care, so does its driver – you. Focusing on fueling up with healthy energy can help you avoid drowsy driving and react more quickly and appropriately to challenges on the road. Healthy drivers maintain a balanced diet and enjoy a regular exercise routine that helps your reflexes behind the wheel. A simple and rewarding practice involves moving for 10 minutes before driving – whether it's a brisk walk or a jaunt up the stairs instead of using the elevator – to give you a natural boost of energy.

Your reaction time naturally slows as you age, so you should be aware of how it affects your driving. Understanding your limitations as a driver is crucial to developing safe driving habits. Safety experts recommend taking a break when driving every two hours or 100 miles, as fatigue slows down your reaction time, putting you at greater risk for a collision on the road. Finally, 90 percent of a driver's reaction depends on vision, regardless of age. The American Optometric Association recommends that adults 61 and older receive comprehensive eye exams annually and adults 18 to 60 receive one at least every two years.

2. A cautious driver is a safer driver.

It's crucial to regularly assess your driving habits. In the past year, can you remember a time when you approached a stop sign, looked around, and kept moving without stopping for a full three seconds? When changing lanes, do you always use your turn signal? When you have a busy day, do you ever eat or drink behind the wheel?

If you're guilty of any or all of these driving habits, it might be time to see how you can become a more conscientious driver. When you regularly refresh your driving skills you can become more alert and confident behind the wheel. Even better, you will reduce your risk for vehicle collisions, which result in savings on your insurance policies and vehicle repairs. Remember, it pays to be a safe driver.

3. A well-maintained vehicle makes for a safer drive.

The majority of features on your vehicle exist to make sure you get to your destination safely. Therefore, proper upkeep and diligent maintenance of your vehicle are important steps toward safer driving. How many of us regularly walk around our vehicle to see if everything looks in order? This simple habit can ensure you have a safe drive and only takes a few minutes to complete.

In your walk around the vehicle check for proper tire inflation, fluid leaks and wear of windshield wiper blades. Early detection of fluid leaks, squeaky brakes or deflated tires can also save money on costly repairs if the situation worsens. Make sure your windows, headlights and mirrors are clean. Also keep an eye out for any obstacles around your vehicle, such as playing children and parked cars. Finally, assess your driving environment before you head out on the road by checking the weather forecast, road conditions, traffic predictions and possible construction detours.

For more tips on how to stay safe on the road, consider taking a driver improvement course, such as the AARP Smart Driver™ course, available online or in a classroom setting near you, in both English and Spanish. In support of National Safety Month, you can take 50 percent off the cost of the AARP Smart Driver online course. To take the online course, participants should visit www.aarpdriversafety.org and enter the promotion code PROMO50 when prompted during registration and checkout. Upon registration, participants have 60 days to complete the online course (30 days in New York). This offer is valid for the online course only and expires June 15, 2015.

In some states, you may even be eligible for a multi-year insurance discount upon completion of the course (please consult your insurance provider for details). AARP membership is not required to take the course. For more information, please visit www.aarp.org/drive or call 1-877-846-3299.

# # #
AARP Driver Safety, the largest driver improvement course in America designed for drivers age 50 and older, is part of the Education and Outreach group at AARP. Questions can be sent to drive@aarp.org .