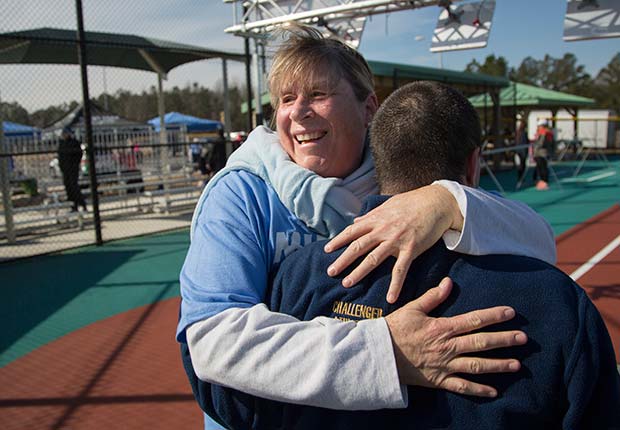 Por Sue Price Johnson

Carol Lendino, de Wilmington, tiene un hijo adulto que sufre de síndrome de Down y vive con ella y a su padre en California que tiene asistentes de salud domiciliarios pagados a tiempo completo.

Ella maneja su propio estrés muy bien, pero asistió a un taller y café para cuidadores de AARP con la esperanza de poder ofrecer más apoyo emocional a su hermana que vive en la costa oeste.

"A pesar de que mi padre tiene cuidadores las 24 horas del día los siete días de la semana, mi hermana es quien hace las compras, lleva a mi padre al médico y se ocupa de los asuntos típicos que enfrentan los cuidadores", dijo. Algo que se agrega al nivel de estrés de su hermana es tener que manejar en las autopistas del sur de California 45 minutos para llegar a la casa de su padre.

Lendino, de 60 años, es una de los 1.7 millones de norcarolinos que proveen cuidados no remunerados a un familiar. Ayudar a estos cuidadores es una de las prioridades más altas de AARP en el 2015.

Los talleres de AARP cubren muchos de los problemas relacionados con la prestación de cuidados. La capacitación enseña a las personas a cuidar de ellos mismos a la vez que se ocupan de una carrera o familia y además tienen la ansiedad que implica tener que cuidar a un pariente que necesita ayuda.

AARP de Carolina del Norte se asocia con Lower Cape Fear Hospice para dictar talleres tales como la sesión realizada recientemente en Wilmington. Además de Caregivers and Coffee hay sesiones llamadas Begin the Conversation que se dictan mensualmente en el Phillips LifeCare & Counseling Center.

"La idea es poner a la disposición de los cuidadores información local y recursos locales", dijo Chris Scott, quien organiza las sesiones en Phillips. AARP ofrece información de contacto para las agencias gubernamentales federales, estatales y locales que ofrecen recursos y programas, así como organizaciones de apoyo y asistencia tributaria.

Se dictan talleres en toda Carolina del Norte. Algunos tienen un público específico en mente, como las comunidades eclesiásticas o cuidadores hispanos, dijo Suzanne LaFollette-Black, directora asociada de AARP en Carolina del Norte. Hay programas de capacitación con almuerzo incluido para empresas con empleados que enfrentan problemas de prestación de cuidados. También se está diseñando un programa para cuidadores en la comunidad LGBT.

AARP de Carolina del Norte también realiza programas de "entrenamiento para entrenadores" dirigidos a voluntarios que deseen ayudar.

Preparación para un momento de crisis
Algunos esfuerzos se concentran en preparar a las personas a enfrentar una situación difícil.

Dick y Dee Hatch, de Cary, han sido voluntarios de AARP por mucho tiempo y ayudan a preparar a otras personas para la jubilación y la prestación de cuidados. Admiten que ellos mismos no estaban completamente preparados.

"No importa lo mucho que te esfuerces —planificar, apartar cosas, asegurarte de tener un testamento y un poder legal de asistencia médica— hasta que no ocurren las cosas, las personas realmente no piensa en todo eso", dijo Dee Hatch, de 79 años, que fue presidenta estatal de AARP desde el 2006 al 2011. Dick, de 86 años, fue cabildero legislativo de AARP durante muchos años después de que la pareja se mudó a Carolina del Norte.

Los Hatch comenzaron a pensar en la preparación de su casa cuando la madre de Dee tenía que navegar el baño del primer piso cuando los visitaba. Hicieron cambios unos años más tarde a medida que la estenosis espinal de Dick lo obligó a usar un bastón o un andador.

La madre de Dee, que vivió hasta los 96 años, eventualmente se mudó a una comunidad de vida asistida a 17 millas de distancia. Si tuviera que hacerlo todo de nuevo, afirmó Dee, habría conseguido un lugar más cerca de su casa. "En sus últimos días de vida, la visitaba casi a diario. Aunque tenía cuidado noche y día, siempre le ilusionaba que la visitara".

Dee aconseja a las personas sobre diversos temas, incluida la remodelación para hacer que sus casas sean más fáciles de navegar con un andador o silla de ruedas.

Algunos talleres se centran en las finanzas o la salud; otros incluyen lecciones sobre comunicación efectiva entre el cuidador familiar y el familiar que recibe los cuidados.

Para conseguir un taller, contacta a LaFollette-Black llamando gratuitamente al 866-389-5650 o escribe a sblack@aarp.org.
Una guía detallada para los cuidadores, que incluye información de contacto en cada región de Carolina del Norte, está disponible en aarp.org/nccare.

¿Cuidas de alguien? Aprovecha el contenido, recursos y tips prácticos de nuestro Centro de Recursos para el que Cuida.