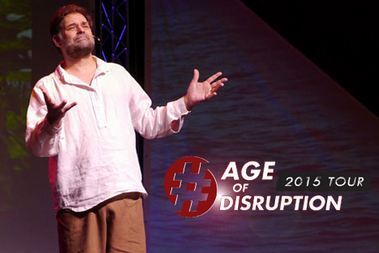 Interested in new ways of thinking about life and its possibilities? Want to gain new insights into the process we call aging? Then you might want to pay attention to the Age of Disruption Tour 2015 and what it has to offer. It's all on April 21 in Manchester when you can shake up everything you think you know about aging!
Internationally-acclaimed longevity expert Dr. Bill Thomas turns the tables on Aging: Life's Most Dangerous Game and teaches us how to approach it with the skill and enthusiasm it requires.
Come out to the Dana Center and experience a new and highly disruptive understanding of aging. Here are the details:
Tuesday, April 21, 2015
7:00 to 8:30 pm (doors open at 6:30)
Dana Center @ Saint Anselm College
100 Saint Anselm Drive #1800
Manchester, NH 03102
Tickets are $25 with 100 percent of ticket proceeds going to benefit a non-profit organization. For more details and ticket information, please visit the Age of Disruption Tour online.
While our culture tells us that aging will change us against our will and for the worst, Dr. Thomas will blend myth and science, music and visuals to prove that wrong!