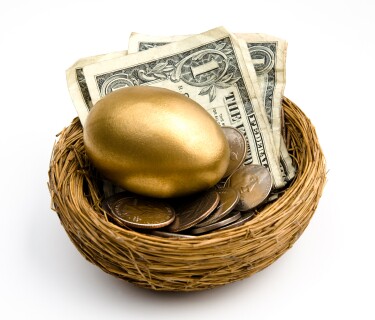 By Aliya S. King

Margina Dennis, 50, a professional makeup artist, worries about retirement. She loves what she does, and yet she knows that working past age 65 isn't feasible.

"There are some professions where you may be able to work longer if you need to save more money," Dennis said. "But I can't continue to haul around 40-pound makeup bags or stand for 14 hours in the heat or in 20-below temperatures."

Dennis, of Bergen County, has some modest savings but would like something more automatic. "Then I could hold myself more accountable for how much I'm putting aside," she said.

Like Dennis, many who save on their own don't do so consistently.

In fact, low retirement-saving rates among workers in the private sector are at crisis levels, said Evelyn Liebman, AARP New Jersey advocacy director.

"More than half don't have access to retirement savings accounts at work—and those who do only have, on average, about $2,500" in their accounts, Liebman said.

When employees have the option of savings plans with automatic payroll deductions, participation is 15 times higher, according to research by AARP's Public Policy Institute.

Better savings options
To help the roughly 1.7 million workers in the state who don't have access to retirement savings plans, AARP is urging lawmakers to enact the New Jersey Secure Choice Savings Program.

The program is one of many "work-and-save" approaches to retirement security that states are considering.

Oregon was the first to implement such a program, and it's been a success; almost 58,000 participants saved nearly $5 million in its initial year of operation.

Secure Choice is like a Roth IRA, Liebman said. The program would set up automatic payroll deductions and be portable so workers would be able to roll over their savings from one job to another with ease.

Small businesses often don't offer retirement programs because of high costs and administrative burdens. Secure Choice would take some pressure off entrepreneurs by helping with the setup.

"It's a professionally managed savings program," Liebman said. "When you take the funds out at retirement, you won't be taxed, and if you need to withdraw earlier due to an emergency, you can remove your contributions with fewer penalties."

An AARP survey found that 79 percent of all New Jerseyans support a statewide retirement program like Secure Choice.

"Some critics think the government shouldn't play a role here. But the government is not running these programs," said Sarah Gill, a senior legislative representative for AARP. "The state is simply aggregating small businesses who don't have the time to handle this," she noted.

Expecting people to just go out and open an IRA on their own is not a viable solution, Gill said. "Retirement savings rates haven't budged in decades.

"Behavioral economics shows that only 5 percent of people who don't have access to a retirement plan actually open their own IRA," she said.

"The way we work and save has changed. We need retirement plans that are available to all and make saving seamless."

Aliya S. King is a writer living in Bloomfield, NJ.