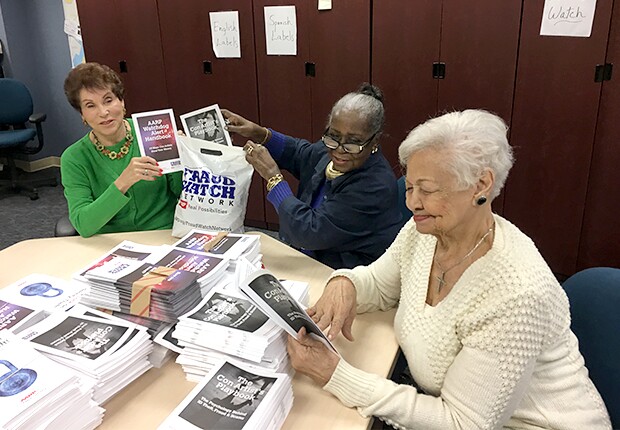 By Aliya King

Four years ago, Phyllis Soffer noticed $2,900 in unauthorized charges on her credit card. "I hadn't even taken my credit card out of my wallet," she said.

Whether it was digital pickpocketing or a hacker who bought credit card information, Soffer did not lose any money. She used the experience to remain vigilant and spread the word about fraud.

"These days, it's so hard to keep up with all the ways you can be taken advantage of," said Soffer, of Monroe Township.

Soffer now makes sure her family is on high alert. "My husband got a call, supposedly from the credit card issued by his bank," she recalled. "They said something was wrong with his card and they could fix it if he confirmed the card number and the expiration date."

Her husband hung up immediately, headed straight to the bank and confirmed that it wasn't a legitimate call.

These experiences motivated Soffer to volunteer for the AARP Fraud Watch Network, assisting New Jersey residents on avoiding scams and identity theft.

The network is a national initiative that collects reports of scams, offers a toll-free helpline (877-908-3360) and hosts a website ( fraudwatchnetwork.org) with tips. Users can sign up for email alerts on the latest scams.

Soffer and several other New Jersey "fraud fighters" are pro­active, using a phone bank to reach AARP members, some of them housebound, to warn about types of fraud. Soffer recently spoke to a woman whose mother, in the early stages of dementia, lost $4,000 to a phony IRS caller.

"There are so many scams," Soffer said. "Even though people are more aware, there are still many that are not."

She cited three types of fraud that can be very harmful but are easily avoided:

FAKE UTILITY: Someone posing as a utility company representative threatens to cut off service if money isn't sent immediately.

DEBT COLLECTION: A caller requests your information about a debt and then demands payment, usually through a wire service, which is not easily traced.

According to a report last year from the Federal Trade Commission, 26 percent of statewide fraud and other complaints are related to debt collection.

IRS SCAM: A caller says you owe money and will face arrest if you don't send it. The volunteers remind people that the IRS and other government agencies will write, not call. Real utilities will send a bill.

Florence A. Sanders, of Lawrenceville, who also volunteers with Fraud Watch, is outraged by the IRS scam. "It's hitting below the belt," she said. "People are fearful of the IRS and it's easy to think it may be a legitimate call."

Since late 2013, nearly 2 million reports have been received nationwide regarding IRS scams and more than $50 million has been paid to criminals, according to the U.S. Treasury Department.

Because fraud attempts are increasingly sophisticated, volunteers continually update the information that needs to be shared.

They offer one essential tip: Don't believe anything an unknown caller says. "If they ask for anything, hang up," Soffer said. "You can call the agency back directly and find out what's going on."

Soffer said she has always been wary of phone numbers she doesn't recognize.

"Most agencies don't call you at all," she said. "If you don't answer and they don't leave a voicemail, it could have been a scam."

Aliya King is a writer living in Bloomfield, N.J.