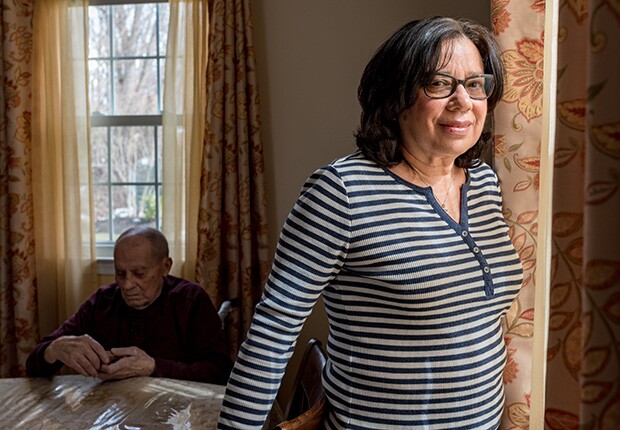 By Aliya S. King

Carmen Falcón remembers her mother getting long handwritten letters from her brothers and sisters in Puerto Rico.
"My aunts and uncles were taking care of my grandparents and kept us informed on the ups and downs. My mom would visit Puerto Rico to provide respite for them. So, all my life, I knew that taking care of my parents would be part of my future. It's an important part of my culture."
Falcón, 61, of Metuchen, retired last year, around the time her father, 93, who has vascular dementia and several back issues, began to need full-time care.
"I'm lucky," she said, noting that her father lives with her. "This happened at a time when I was able to do this for my father."
Even so, Falcón relies on occasional help from relatives. An aide, provided by the state, helps bathe and prepare meals for her father three times a week.
While she considers herself fortunate to be able to care for her father full time, it can be challenging.
"There are days when I need to get away, which can be hard for some of us to do," she said, noting that when an aide is available she sometimes meets friends to go to a movie or the mall. "Sometimes the caregiver needs care, too."
Falcón is one of approximately 1.1 million caregivers in New Jersey helping aging parents and other family members.
"Caregivers are contributing $13 billion in unpaid care to their loved ones," said Crystal McDonald, AARP New Jersey associate state director of advocacy.
"They are caring for people who, in some cases, would otherwise need nursing home or hospital care at great cost to the state. We need to make sure these caregivers have what they need."
To illustrate the value of family caregivers, McDonald has been collecting their stories from around the state. The hope is that gathering this information will help to pinpoint caregivers' greatest needs, including time off.
"Some caregivers have told us about not having a single day off in 10 years," McDonald said. "Because we are living longer, many people are caregivers for a longer period of time."
Lynette Whiteman, 61, of Toms River, would like to see agencies provide more instruction when a family member brings a loved one from a facility to live with them at home.
In 2012, Whiteman moved her mother in with her family shortly after her father died.
"You get all kinds of information when you're bringing home a pet or a child. But there isn't much you're told about bringing home an aging parent," she said.
"Is your home really safe? Do you have enough help in place? Are you familiar with your parent's medical needs? I never really considered it until it was all right in front of me."
AARP New Jersey is organizing small Coffee With Caregivers events—limited to 20 people—around the state, to allow individuals to share their stories with AARP and with one another.
"Talking to other caregivers would be great," Whiteman said. "When people hear that my mom is now living with me, they think I'm a saint. But this is not easy. And it's much harder to ask for help when you're caring for a parent, because there's this idea that we can do it all because they did it all for us."
Go to aarp.org/nj to register for a Coffee With Caregivers event.
To share your caregiving stories with AARP New Jersey, go to action.aarp.org/njcaregivingstory.
Aliya S. King is a writer living in Bloomfield, N.J.