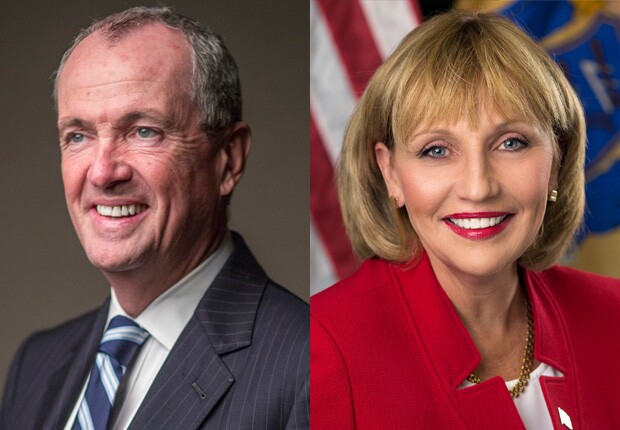 By Christina Hernandez Sherwood

In an election garnering national attention, Garden State voters on Nov. 7 will choose their next governor: Lt. Gov. Kim Guadagno, a Republican, or Democratic challenger Phil Murphy.

New Jersey and Virginia are the only two states with gubernatorial elections in 2017. Two-term governor and onetime presidential candidate Chris Christie will be replaced by Guadagno, 58, his running mate, or Murphy, 60.

Guadagno has served as lieutenant governor since 2010. She was previously the first female sheriff of Monmouth County.

Murphy was an executive at the Wall Street banking firm Goldman Sachs for more than two decades. He also spent four years as the U.S. ambassador to Germany during the Obama administration.

While the candidates agree that New Jersey faces budget and tax problems, they differ on ways to fix them.

In an interview with the AARP Bulletin, Murphy said that unlike Gov. Christie, he would fully fund the state's public pension programs, which support 800,000 households.

To aid the more than half of New Jersey workers in the private sector who lack access to an employment-based retirement plan—about 1.7 million people—Murphy said he would consider a state-sponsored plan for small-business employees.

Retirement income
Protecting retirement income has emerged as an issue in the campaign. In an emailed response to the Bulletin, Guadagno said she would help retirees by improving the law that, by 2020, will exempt up to $100,000 of their income from state tax.

"The problem is that if you are a dollar over the income requirements, you have to pay taxes on your entire income, meaning many seniors get no relief at all," she said. Guadagno favors amending the law to grant older residents a tax exemption on their first $100,000 of income, regardless of the total.

Guadagno said that her plan to cap school taxes at 5 percent of household income would also benefit older residents. In addition, she pledged to lower property taxes in her first term or not run for a second.

Murphy said he would ease New Jersey's property tax burden by growing the economy, providing tax relief for older residents and low-income earners, and encouraging communities to share services. "We have to go to those who have the ability to afford taxes the most to make sure they're paying their fair share," he added.

The state has more than 1 million unpaid family caregivers caring for older adults and persons with disabilities, according to AARP New Jersey. If they were paid, this would be a $13 billion industry, more than double what the state spends annually on Medicaid for long-term care.

Murphy said he would create a caregiver tax credit, similar to New Jersey's child-care tax credit, as well as educate caregivers about how they can use the New Jersey Family Leave Act and make it more accessible.

Also citing the family-leave program, Guadagno said she would consider legislation making it easier and more affordable to support a family, including tax credits for caregivers.

For more information and to hear from the candidates, go to AARP New Jersey's video voter guide at aarp.org/nj.

Christina Hernandez Sherwood is a writer living in Collingswood, N.J.