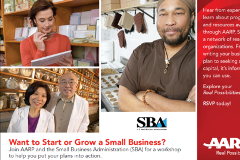 Boomers who have considered trying to make money from their hobby can get expert advice at a workshop in Concord Oct. 21. Participants will get tips on how to determine if their idea is marketable, build a business plan, market online and tap into resources for budding entrepreneurs.

"The average 401(k) account balance in New Hampshire is $26,285, so we know many people are going to have to work in their retirement years," said Todd Fahey, AARP state director. "Earning extra income by doing what you love is an ideal way to help achieve financial security."

Sponsored by AARP, the Small Business Administration and the Center for Women's Business Advancement, the event is free, but registration is required. For more information or to register, go to aarp.cvent.com/HobbyConcord.