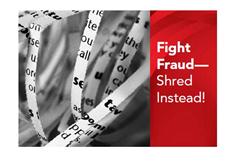 Need to dispose of sensitive documents after filing your income tax return? Bring bags or boxes of papers to a free shredding session near you.

AARP New Hampshire invites members to reduce the chance of identity theft by shredding documents such as bank statements, canceled checks, and credit card offers or receipts. Staples and papers clips do not need to be removed.

The free sessions will be held from 9 a.m. to noon at Bank of New Hampshire locations in Manchester and Laconia on April 18 and in Concord and Littleton on April 25. For details, go to aarp.org/nh.

To sign up for watchdog alerts, go to aarp.org/fraudwatchnetwork. To request a free AARP fraud presentation for a community group, email nh@aarp.org.