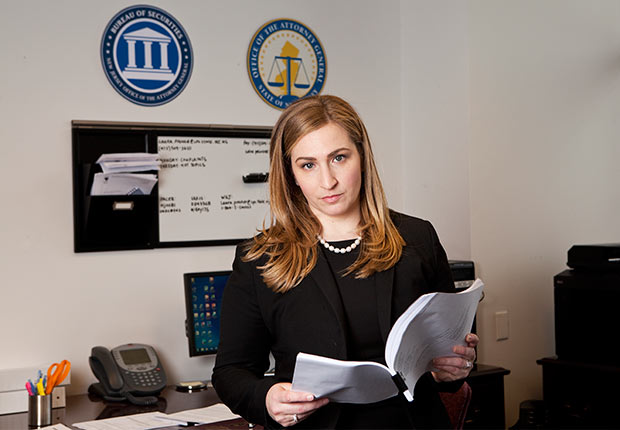 Por Christina Hernandez Sherwood

En el pasado otoño, alguien llamó a la casa de Ravindra Kumar en Kendall Park y le dijo que representaba al Internal Revenue Service (IRS, Servicio de Impuestos Internos). La persona que llamaba dijo que el IRS tenía un caso contra Kumar y necesitaba el nombre de su abogado. Kumar, contador jubilado, le pidió que le enviara el reclamo por escrito.

Pasaron tres meses sin que llegara ninguna carta, pero luego Kumar, de 84 años, recibió otra llamada. Para entonces, sabía que se trataba de una estafa. "No soy esa clase de personas", comentó Kumar. "Soy honesto. No tengo nada que ocultar al IRS".

Los estafadores que buscan obtener información personal y dinero —a través de llamadas en las que piden donaciones falsas, cartas que anuncian que alguien ganó el premio de un sorteo o la lotería, y otros tantos métodos— no son precisamente un caso único. Uno de cada cinco adultos mayores de 65 años en Estados Unidos ha sido víctima de fraude financiero, informa el Investor Protection Trust, organización sin fines de lucro dedicada a la educación de los inversores.

"Sabemos que las personas mayores pueden ser vulnerables", en especial cuando se acercan a la edad de jubilación, afirma C. Brian McGuire, subdirector estatal de AARP Nueva Jersey para la defensa de los derechos del socio. "Muchos tienen dinero y viven o van a vivir con un ingreso fijo. De ahí su vulnerabilidad si perdieran los ahorros de toda su vida".

AARP y otras organizaciones trabajan para proteger a los residentes de Nueva Jersey de estafas potencialmente dañinas como estas. La red contra el fraude AARP Fraud Watch Network (aarp.org/fraudwatchnetwork) brinda educación para prevenir estafas, recursos antifraudes del estado y alertas contra las estafas en línea y en tiempo real.


Sistema de alerta en línea

Más de 2,000 socios de AARP Nueva Jersey se han registrado en el sistema de alertas, afirma McGuire. "La idea de la red es que las personas tomen conciencia de lo que ocurre y compartan esa información con otros. Estamos en esto juntos".

Este año, AARP planea trabajar con la New Jersey Bureau of Securities (Oficina de Valores de Nueva Jersey) para seguir educando a los residentes en materia de fraude, explica McGuire. La jefa de esta oficina, Laura H. Posner, describe algunas de las estafas más extendidas que apuntan a los adultos mayores:

La venta de productos financieros que no se ajustan a la edad o posición de una persona.
Invitar a personas a almuerzos o cenas donde se dan seminarios gratuitos, generando culpa en ellas para que compren un producto fraudulento o de valor cuestionable.
Apuntar a un grupo determinado, como los feligreses de una parroquia o los miembros de un centro para la tercera edad.
Existen muchas formas para protegerse del fraude financiero, explica Posner. Conmunícate con su oficina a través de la línea gratuita 866-446-83786 o ingresa en el sitio njsecurities.gov. Averigua si el producto que estás considerando está registrado en el nivel federal o con la Oficina de Valores, y si el profesional financiero con quien trabajas está registrado. "Si no lo están", sostiene Posner, "es una señal de advertencia importante ".

Tómate tiempo para entender el producto que te ofrecen en venta, sugiere Posner, y considera revisar la información con alguien de tu confianza. "Si no puedes entender qué es lo que te están vendiendo", agrega, "probablemente sea algo en lo que no deberías invertir".

Las asambleístas Amy Handlin (republicana por Monmouth), que tiene un pariente a quien estafaron en miles de dólares, y Sheila Oliver (demócrata por East Orange) encabezan una campaña de información estatal sobre fraude. "La manera más efectiva de educar a la gente sobre los peligros de los estafadores es usar la misma técnica que los estafadores explotan", explica Handlin, "que es la interacción personal, uno-a-uno".

Las legisladoras están pidiendo a organizaciones comerciales como bancos y prestadores de salud que descarguen de la Division of Consumer Affairs (División de Asuntos del Consumidor) un informe sobre fraude y conversen al respecto con sus clientes. "Con eso puede lograrse toda la diferencia del mundo", dijo Handlin. "No es suficiente con solamente poner un folleto sobre la mesa".

Handlin comenta que también está explorando maneras de reforzar las leyes estatales para combatir el fraude, pero muchos estafadores operan desde el exterior. "Están entre los criminales más despreciables con los que jamás me he topado", explica. "Tenemos la obligación moral de perseguir a estos depredadores de maneras que, con suerte, sean tan creativas como las de ellos".

Lee más sobre cómo manejar mejor tus finanzas en nuestro canal de Dinero.