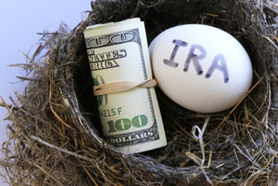 Are you working for an employer that doesn't offer a 401(k)-type retirement savings plan? This can be a real worry for millions of working Americans, who fear they can't effectively save for retirement without a 401(k).

The good news is you still can save for retirement and work toward self-sufficiency when it comes time for you to stop working. And it's easier than you may think.

AARP offers a variety of resources to help you plan for your retirement at www.aarp.org/readyforretirement. In the meantime, follow these tips for getting your retirement savings started today.

Tip 1: Save up for your initial deposit.

When you decide to open a retirement savings account, it will be in the form of an IRA. You'll need a minimum deposit to get started. With some banks or financial institutions, you can open an IRA for as little as $100 if you set up regular contributions. More often, the minimum deposit is $1,000.

You can start putting money aside today to get your deposit together. Can you save $25 a week? If it sounds like a lot, think of ways to cut your expenses. Maybe you can pack lunch instead of buying it, or eat at home more often than eating out. If you stop to get coffee in the morning, try making your own instead.

Tip 2: Choose between a Traditional or Roth IRA.

An IRA has tax benefits that regular savings accounts don't have. You can open an IRA and contribute up to $5,500 a year. If you are age 50 or over, you can contribute an extra $1,000 a year.

You have a choice between a Traditional IRA and a Roth IRA. The difference is in how your money gets taxed. Your contributions to a Traditional IRA aren't taxed going in, but get taxed when you take the money out in retirement. The gains your money makes in the IRA (the "gains") is also taxed when you withdraw it.

With a Roth IRA, your contributions are taxable, but you don't pay any taxes on your withdrawals in retirement. Your gains aren't taxed, either. Some experts say the Roth IRA is a better deal than a Traditional IRA.

The general rule with IRAs is that you can begin to take withdrawals without a tax penalty beginning after you turn age 59 ½. For a more detailed understanding of the rules, read AARP's tip sheet, Saving for Retirement Through IRAs.

Tip 3: Open up your IRA.

You have several options on where to open your IRA. You could head to a traditional bank, but your investment options may be limited. Credit unions are worth looking into. If you belong to one, you may find you can open an IRA with a low initial contribution. Plus, you may have a wider range of investment options than with a bank. You could also consider the big investment firms, like Vanguard, Fidelity, T. Rowe Price or others.

When you look into your options, find out what fees you will be charged. Some institutions charge an annual maintenance fee, for example, but if you manage your account online, they may waive it.

Tip 4: Choose your investments.

When you save through an IRA, you have choices about how to put your money to work for you. Depending on where you open it, you can pick from investments that earn interest, like certificates of deposit (CDs) or money market funds. When you have a long time (10 or more years) before you need the money, it may be better to choose investments that can potentially earn more money for you, like mutual funds.

For example, you could invest in a "stock mutual fund." Think of it as a bucket that holds investments in different companies. When the companies do well, your gains grow. There's a risk that they won't do well, too, which could cause investment losses. Over a long time period, though, mutual funds are more likely to provide gains and do better for you than interest bearing investments like CDs.

To learn more about investing, see AARP's tip sheet, Investing for the Long Haul.

Tip 5: Make your saving automatic.

The best way to save for a long-term goal like retirement is to make it automatic. When you open an IRA, you can give the institution your bank information (routing number and account number, both found on your checks). Then identify how much you would like to contribute and how often. If you get a raise down the road, give your retirement savings a raise, too, by increasing your contribution.

You can do this!

The biggest obstacle to saving is getting started. Once you start, you'll find that you won't even miss the money you're putting away. And remember, the money is going toward a good cause – your future financial security.

To learn more about IRAs, read AARP's tip sheet, Saving for Retirement Through IRAs. To figure out what your savings goal should be, check out AARP's retirement calculator at www.aarp.org/money.