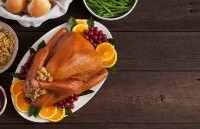 As part of its continuing efforts to ensure that all New Jersey residents have food to eat,
AARP is working to help promote the programs and resources that are available to help them right now.
NJ SNAP
is a nutrition assistance program designed to supplement a household's monthly grocery budget so that families can afford to buy nourishing and nutritious food. This is particularly important as the unpredictable fall weather approaches, and as the cost of heating makes its return to our list of monthly household expenses. However, there are still tens of thousands of people across the state that qualify for this program yet have not enrolled. Even those who feel that they have help from others, adult children for example, should still take advantage of this program if they qualify, as every dollar saved on food can be used to pay for one of life's other expenses or bills. Enrollment into SNAP is conducted by each county's Board of Social Services. AARP has established a toll-free SNAP information line to directly connect callers to their local Board of Social Services to learn more about SNAP and to enroll.
An estimated 12% of New Jerseyans are eligible for food benefits and may not know it. Likewise, a number of people may be in a position to help and not realize how easy it is. You can
donate funds
to the Community FoodBank of New Jersey which will help them to stay stocked through their busiest time of the year. For every dollar donated, it allows the food bank to buy $10 worth of food.
If you have family or friends who are in need of food, encourage them to sign-up for SNAP, and to get assistance at their local food bank. Assistance is easy to find. No one should go hungry over the holidays, especially when there are so
many ways to get food
!
Please note, this line will
only be active
until December 31
st
, 2013, so please call as soon as you can.
To find out how to enroll, call the toll-free AARP Information Line today at:
1-855-728-4155