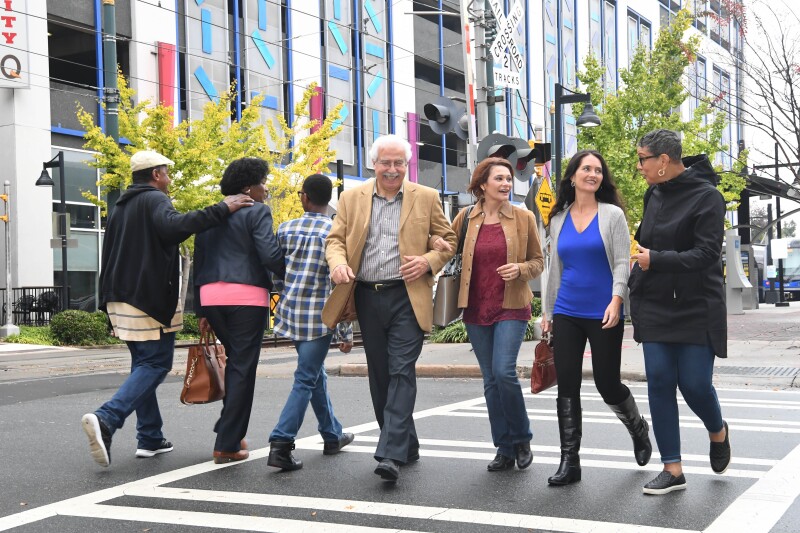 Have you made your New Year's resolutions for 2022? If giving more is on your list. Volunteering is good for our community and for our health.

An article published by the Harvard Medical School states, "Volunteering helps people who donate their time feel more socially connected, thus warding off loneliness and depression. And volunteering has positive implications that go beyond mental health. A growing body of evidence suggests that people who give their time to others might also be rewarded with better physical health—including lower blood pressure and a longer lifespan.

Do Good and Feel Good
As a volunteer with AARP Charlotte, you may provide education, advocacy or other services to address community needs and help people 50-plus live their best lives — and you'll work side by side with our dedicated staff and other volunteers!

Being an AARP volunteer allows flexibility to give a little or a lot of time. Many feel stretched to the limits and with good reason. AARP works with volunteers to create an experience that best suits your needs, skills and interests.

In addition, AARP Foundation has even more opportunities for volunteers. Whether you pack nutritious meals for food-insecure seniors, tutor underserved children to read at grade level so they can avoid poverty later in life, or help low-income older adults file their taxes, you'll be making a vital contribution to your community — and you'll experience the great feeling that comes from helping others.

AARP Charlotte volunteer Pat Battle said, "Even giving just a little of your time can make a huge difference. You can impact someone's life with one conversation and one act of kindness."

She adds, "Volunteering with AARP has enriched my life, expanded my network and given me a new sense of community. When we refill each other's cups we can pour more from our own."

You can learn more about volunteer opportunities in the Charlotte region at one of several orientation sessions being scheduled for 2022. If interested in learning more, please contact Laura Cole, AARP Associate State Director in Charlotte at lcole@aarp.org or by calling 704-466-4560.

About AARP North Carolina