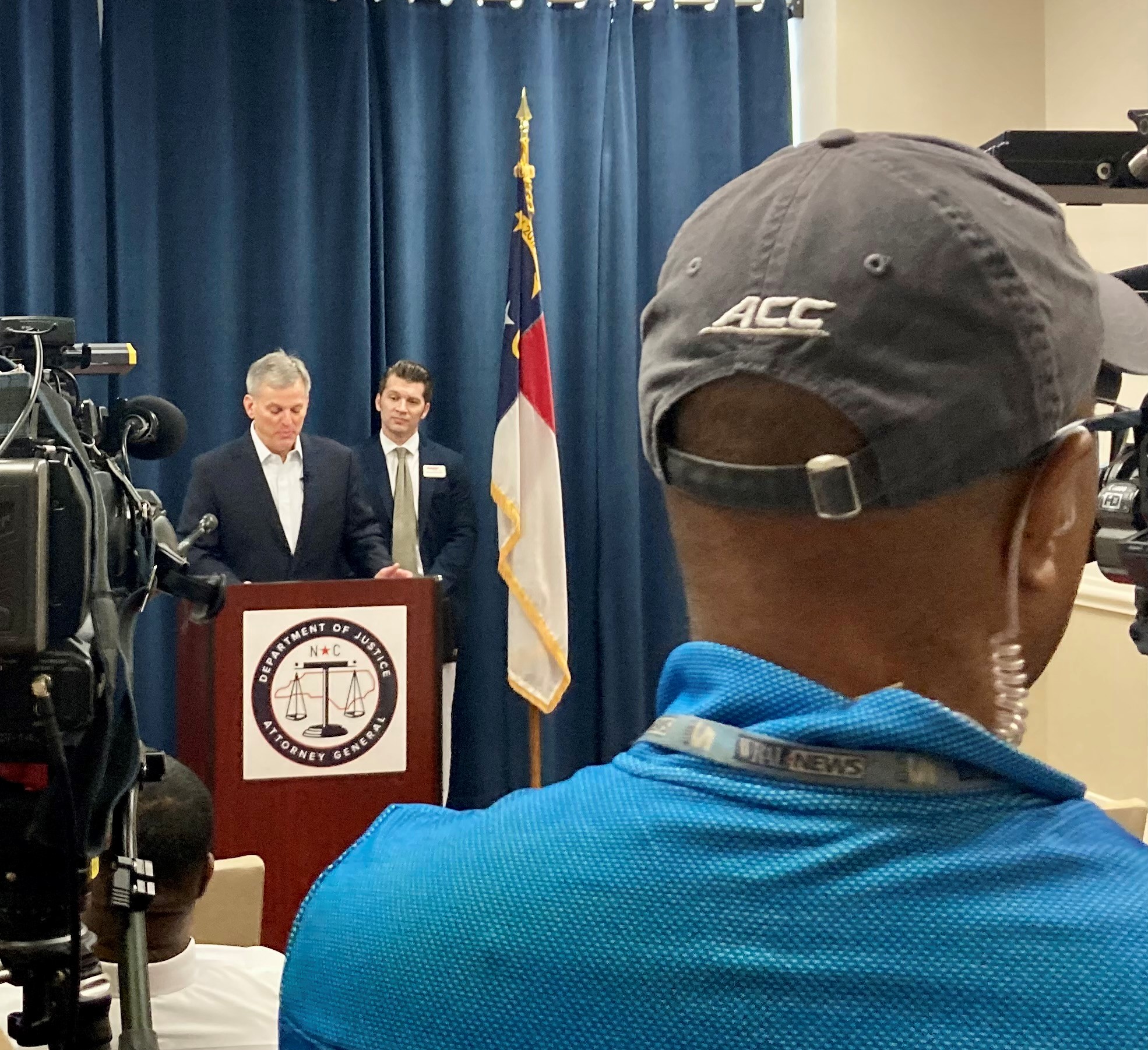 RALEIGH -- AARP joined Attorney General Josh Stein today when he announced two wins for consumers: a temporary restraining order against an unlicensed contractor who was running a fraudulent contracting scheme and shutting down out-of-state robocallers in Texas.

Attorney General Stein also reminded North Carolinians to be careful to avoid common scams and bad actors who are trying to take advantage of people. Attorney General Stein was joined by AARP NC State Director Michael Olender and North Carolina Public Interest Research Group State Director Katie Craig at an event this morning to highlight consumer scams during National Consumer Protection Week.

"Protecting consumers is one of the reasons I became attorney general, and since I've been on the job, we've won more than $2.5 billion on behalf of North Carolina and its people," said Attorney General Josh Stein. "Just today, we shut down robocallers in Texas who bombarded North Carolinians with nearly 75 million scams and won a temporary restraining order against Roger Dale Simmons, an unlicensed contractor who we allege was running a fraudulent contracting scheme. My team and I will always fight to protect consumers and ensure a fair playing field for all businesses."

"Older adults and veterans are two of the top targets when it comes to scams – and the victimization rates here and across the country continue to climb," said AARP NC State Director Michael Olender. "The AARP Fraud Watch Network is free to members and non-members alike, and can help you learn about common fraud and scams, what's prevalent in North Carolina, and even has volunteer operators who can assist you if you have been a victim. Education remains our best defense. AARP knows that if you can spot a scam, you can stop a scam."

"It's really tough being a consumer today. It can be a solid part-time job to take care of yourself and your information," said Katie Craig, State Director for NCPIRG Education Fund. "And anytime we figure out how to handle one type of problem or threat, new ones emerge, from smart toys that creep on our kids to medical providers that illegally hit us with surprise bills to scam moving companies that steal all of our belongings. We hope this week that by highlighting the top issues consumers are facing and providing tips to tackle them that we can help North Carolinians take steps to be smart and proactive consumers."

Here are some common tips to follow to avoid scams and fraud:

If you don't know who's on the other end, don't bother answering the phone or responding to the message.
Never give your bank account, credit card, or Social Security number to someone you don't know.
Legitimate businesses do not require you to pay them in gift cards or by bitcoin – that's always a scam.
If something sounds too good to be true, it probably is. These deals are great only for the person selling them.
Don't panic or feel pressured into giving your money or personal information away. Scammers use fear tactics to try to get you to act without thinking.

North Carolinians who have been or think they may have been a victim of a scam should file a complaint with the Department of Justice at 1-877-5-NO-SCAM or www.ncdoj.gov/complaint. These complaints help us fight to try to win money back for consumers and warn others of potential new scams.

Since Attorney General stein took office, the Consumer Protection Division has won more than $2.5 billion in court judgments and settlements on behalf of North Carolina consumers, including money from settlements with drug companies that contributed to the opioid epidemic. In 2022 alone, the Consumer Protection Division received 24,981 consumer complaints and won more than $300 million in judgments and settlements.


Michael Olender AARP_Reporting Fraud.mp4
About AARP North Carolina