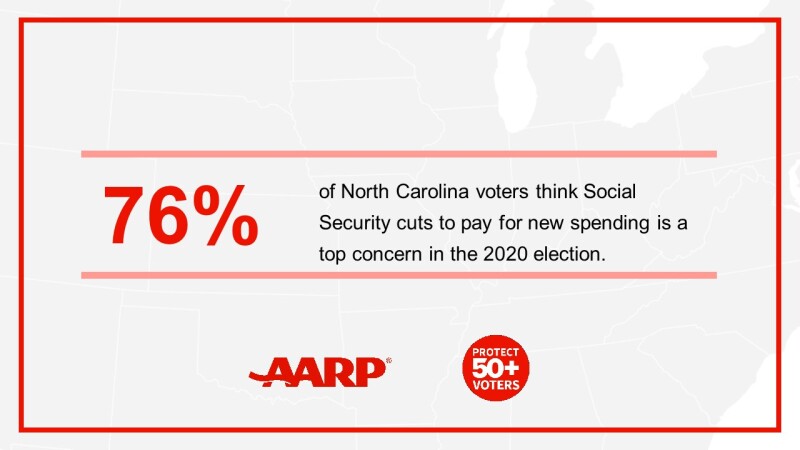 RALEIGH, NC—Today AARP North Carolina released the full survey results that shows that although voters age 65-plus are a not a lock for either presidential candidate, former Vice President Joe Biden (52%) leads President Donald Trump (45%) among voters 65-plus. In the Senate race, Cal Cunningham (48%) leads Thom Tillis among voters 65-plus (41%).

AARP released some of the poll's topline results last week, and today released the entire poll that finds that support for Social Security and Medicare unifies voters from both parties.

A significant majority of voters from both parties say that they are more likely to vote for a candidate who will still up protect Social Security (87%), strengthen Medicare (88%) , lower drug costs (86%) and increase protections for nursing homes (81%).

"Candidates who want to win in 2020 must talk about the issues that matter to voters 50 and over – like voting safely from home or in-person, preventing cuts to Social Security and Medicare and lowering prescription drug prices," said AARP North Carolina Director Michael Olender. "Most importantly, North Carolinians are casting their ballots earlier than ever and candidates need to address their concerns now."

The North Carolina poll findings include:


Voters 50-plus plan to vote by absentee ballot (16%) or early in-person (45%) in large numbers this year.

55% of voters 50-plus are worried about getting coronavirus and 23% know someone who has passed away from coronavirus.

More 50-plus voters are concerned about getting infected with coronavirus (63%) than getting a vaccine for it (33%).

A majority of voters 50-plus (45%) are worried about not being able to retire

Benenson Strategy Group and GS Strategy Group conducted 1600 interviews – by phone, using registered voter lists – with likely 2020 voters in North Carolina from August 30th to September 8th. 80% of interviews were conducted via cell phone; 20% via landline. The survey included an oversample of 1200 50+ voters for additional analysis, including 400 African-American 50+ voters. Data was weighed to ensure it was representative of the likely voting universe both overall and 50+. The margin of sampling error for the entire data set is ±2.5% at the 95% confidence level.


About AARP North Carolina