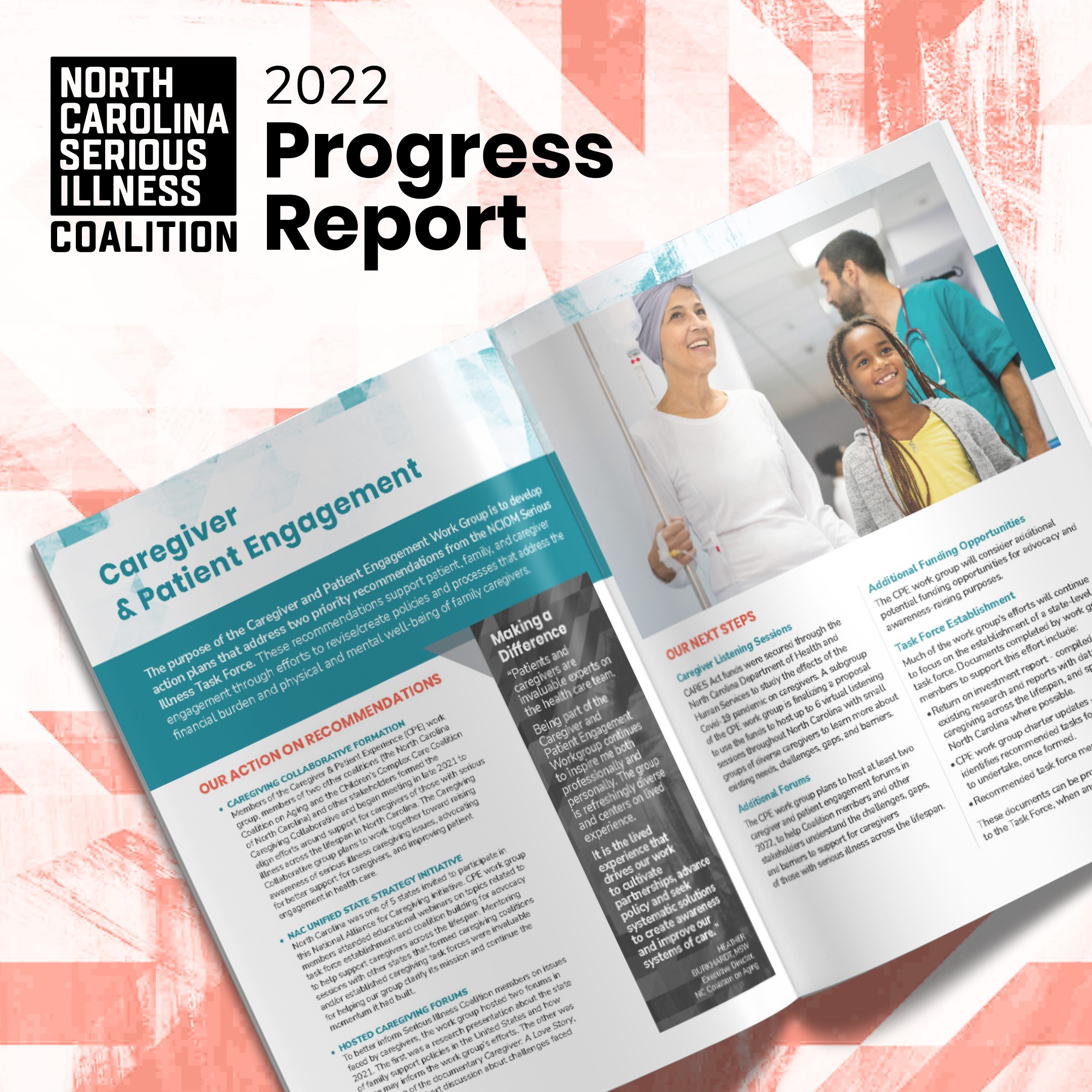 RALEIGH -- As the North Carolina Serious Illness Coalition (NCSI Coalition) approaches the end of its second year, COVID has provided an important catalyst for more than 160 members and 85 organizations coming together with the common goal of improving the lives of the seriously ill and their caregivers. AARP North Carolina has been an instrumental part of the Coalition's efforts.

Created in 2020 to help advance priority goals of the NC Institute of Medicine's Task Force on Serious Illness Care, where AARP also served as a member, it has been focused on removing legal barriers to advance care planning; helping improve clinical practice by assuring consistency in palliative and end-of-life care; providing important training and support to the public and providers; and revising and creating policies and processes that address the financial burden and physical and mental well-being of family caregivers.

Coalition member Michelle Ries, MPH, Associate Director of the NC Institute of Medicine said, "The work of the NC Serious Illness Coalition has been invaluable in ensuring that key stakeholders have the facilitated connection, support, and information they need to work toward this common vision. Especially during this time of increased focus on the health care needs of our state, the North Carolina Institute of Medicine looks forward to continued partnership with the Coalition to improve serious illness care and quality of living for all North Carolinians.

Planning for your care
"With the increase of deaths and serious illness caused by the pandemic, COVID has added urgency to make it easier for North Carolinians to learn about, complete, and access advance directives and portable medical orders (including the MOST form), so that each individual receives care aligned with their personal goals and wishes," said NCSI Coalition Executive Director Virginia Slocum.

A NCSI Coalition Founding Member and AARP volunteer David Sevier said, "Advance care planning is just one of many issues the NCSI Coalition is working on and is exploring each week in its program "Friday Facts," where both coalition members and the public can hear from leading experts in the field as well as medical professionals, providers, advocates and others who are coalescing for change."

Part of that change is continuing education and the NCSI Coalition is hosting forums and listening sessions to both educate important audiences and to inform the work of the Coalition. It has also built a resource library on its website so people can access research and information to help improve the quality of care.

Looking ahead to the remainder of 2022 and beyond, the NCSI Coalition will be:

INCREASING AWARENESS OF ADVANCE CARE PLANNING

Improving tools, professional education, and awareness
Advocating for the electronic upload of ACP documents in the NC Health Information Exchange.
Continuing efforts around eMOST and alignment with the National POLST
ADDRESSING THE NEEDS OF INDIVIDUALS LIVING WITH SERIOUS ILLNESS, AND THOSE CARING FOR THEM

Providing educational sessions targeting caregiving to increase awareness of the challenges, gaps, and barriers to support caregivers of those with serious illness across the lifespan
Establishing a state-level caregiving task force
PROVISIONING GOAL-CONCORDANT CARE TO THE SERIOUSLY ILL POPULATION

Developing a directory of palliative care services in North Carolina
Actively examine the changing field of clinical care by focusing on the challenges of frailty and the importance of initiating clinical conversations and documentation that result in goal-concordant care.
ADVOCATING FOR LEGISLATIVE CHANGES CONSISTENT WITH THE NCIOM'S TASK FORCE ON SERIOUS ILLNESS CARE RECOMMENDATIONS

Supporting the Remote Online Notary Bill
Introducing opportunities to collaborate with the direct care workforce, industry, and elected officials
PRIORITIZING HEALTH EQUITY & DIVERSITY AND REDUCING DISPARITIES

Increasing diverse representation in organizational participation and leadership
Responding through actions, initiatives, and programming to health disparities in serious illness care for minority and disabled communities.
Virginia Slocum adds, "Coalition membership is available to anyone who has a willingness and a passion to support the work to which we are dedicated. At this time, there are no fees associated with membership."

Read more and download the 2022 Progress Report here.

About AARP North Carolina