Aging isn't what it used to be. Advancements in medical science have led to longer lifespans making it possible for people of all ages and abilities to live more active lives. Two older Tar Heel athletes helped the U.S. win a gold medal at the Disabled Water Ski International Championship July 25-28 in Skarnes Norway.

AARP congratulates the North Carolina skiers and all of those who competed in this year's games. Their hard work and determination is a shining example of all we can accomplish after age 50.

Meet the Tar Heel Skiers:
Gregg Stokes
Rocky Mount, NC
Age; 60
Hometown; Wilson, NC
Job; Area manager at Performance Foodservice
Physical Challenge; Right Arm Amputation
How he got started skiing;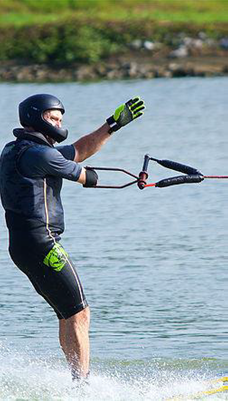 Learned to ski at 17 & started competing at age 19, developed his own custom "ski handle extension" to replace the portion of my arm that was removed in an industrial accident at age 14. Skied my way into being a USA Water Ski certified tournament boat driver and Nautique Promo skier. Placed 5th overall at the Able-Bodied Regionals and qualified to ski Nationals. Joined the ASAP Ski Team in 2014, competed in my first Adaptive Nationals as an exhibition skier to earn an International category, since skied 2 more Nationals earning podiums in Jump, selected to my First TEAM USA in 2018 and am looking forward to representing USA, NC and my ASAP family in Norway!
Results for Gregg in Norway – Gregg finished 2nd Overall for Men's Standing Division. He won a Silver Medal in Jumps, a Bronze Medal in Slalom and a Bronze in Tricks.
Robbie Parks
Lexington, NC
Age; 52
Physical Challenge; C-7 incomplete quadriplegic
How he got started skiing;
Skied again in 2005 with the ASAP (Adaptive Sports and Adventures Program) was taught competitive skiing in 2007 with Bill & Denise Bowness, skied my first nationals in 2008, helped start the ASAP Competitive ski Team in 2009 and am the current team coach and boat driver and custom adaptive ski equipment designer and builder. Skied my first TEAM USA Worlds Competition 2011 and have been on the US Team since with 3 World Team Golds and 1 Silver. Won National Titles in Jump and am looking forward for to competing for another Gold medal and a World MP2 Slalom Record at my 5th World Championships in Norway with Team USA!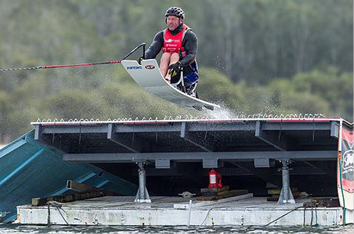 Results for Robbie in Norway- Robbie skied great at the World Championship and earned a lot of jump points to take TEAM USA back to GOLD.
About AARP North Carolina