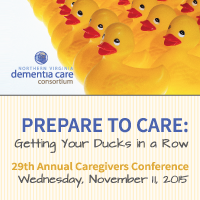 Caring for a loved one takes preparation and support from the community. The 29 th Annual Caregivers Conference - "Prepare to Care: Getting Your Ducks in a Row" - aims to equip family caregivers, volunteers and professionals with the tools to be better prepared to care for a loved one. Join AARP Virginia and the Northern Virginia Dementia Care Consortium Members November 11 to learn how you can better manage life as a caregiver.

Conference attendees will be able to learn practical tips on how to plan and organize caregiving documents, visit with exhibitors who offer supportive services, and earn Continuing Education Units from George Mason University's Office of Continuing Education.

Guests will also have the opportunity to hear from this year's keynote speaker, Major General Antonio M. Taguba, US Army Retired. Taguba and his siblings weren't prepared to care for their parents once they fell ill and were forced to make tough decisions about their health and finances. To help others, General Taguba is now the community ambassador for AARP and an advocate for caregivers and their families.

29th Annual Caregivers Conference
"Prepare to Care: Getting Your Ducks in a Row"
Wednesday, November 11
8:00 a.m. to 3:30 p.m.
Korean Central Presbyterian Church
15451 Lee Highway, Centreville, VA 20121
2015 advert (not used version)

Do you need someone to care for your loved one so you can attend the conference?
Limited free in-home respite care for persons with Dementia, living in northern Virginia only, will be provided by GraceFul Care. For more information about respite, call (703) 904-3994 no later than October 15.

Conference Speakers
Sally Balch Hurme, J.D., has led the national conversation on many of the legal issues of concern to older persons and their families. Whether the issue is how to make decisions for others, plan for what comes next, or avoid fraud, she's been in the forefront. She has focused her professional career on explaining the law so everyone can understand it. As the author of the ABA/AARP Checklist for Family Caregivers, she walks caregivers through the process of gathering in one place all the health information, financial details, legal documents, and personal and medical care wishes of the person they care for. Plus she clearly explains what's needed, what's missing, and where to get it. Other books in Hurme's ABA/AARP Checklist series include Checklist for Family Survivors and Checklist for My Family. Click here to download a PDF of Sally Hurme's presentation.

Ron Culberson, MSW, CSP, CPAE, has a master's degree in social work and spent the first part of his career working in a large hospice organization as a clinical social worker, middle manager, and senior leader. As a speaker, humorist, and author of Do it Well. Make it Fun. The Key to Success in Life, Death, and Almost Everything in Between, he has delivered more than 1,000 presentations to associations, government agencies, non-profit organizations, and corporations. His mission is to change the workplace culture so that organizations are more productive and staff are more content. He was also the 2012-2013 president of the National Speakers Association and is a recognized expert on the benefits of humor and laughter.

Jennifer FitzPatrick, MSW, LCSW-C is a gerontologist and Founder of Jenerations Health Education, Inc. and is a nationally recognized speaker and author on helping working caregivers, intergenerational workforces and dementia care. She is an Education Consultant for the Alzheimer's Association of Greater Maryland and an Adjunct Instructor at John Hopkins University. Her first book on decreasing caregiver stress is being published in early 2016. Click here to download a PDF of Jennifer FitzPatrick's presentation.

Antonio M. Taguba, Major General, U.S. Army Retired, serves as a Community Ambassador for AARP. After his parents became ill, he and his siblings were ill-prepared to care for them. Faced with tough decisions about their health and finances, they managed to care for them the best they could. To help others, General Taguba now advocates for caregivers and their families. Born in Manila, Philippines in 1950, General Taguba joined the U.S. Army after graduating from Idaho State University in 1972. He served in numerous command and staff positions up to General Officer level. His service tours included assignments in the
continental United States, South Korea, Germany, and Kuwait. He retired in 2007 having served 34 years on active duty as a decorated officer with the rank of "Major General" and an advocate for breaking down racial and ethnic barriers in the military.

Scott Turner, MD, PhD is a Professor of Neurology and Director of the Memory Disorders Program at Georgetown University Medical Center, Washington, DC. Previously, he was Chief of the Neurology Service at the VA Ann Arbor Healthcare System and Associate Professor and Associate Chair in the Department of Neurology, University of Michigan, Ann Arbor. He was awarded MD and PhD degrees from Emory University, Atlanta, and completed internship, residency, and fellowship training at the University of Pennsylvania, Philadelphia. He is Board-Certified in psychiatry and neurology. Turner has received prestigious awards including a research fellowship from the Howard Hughes Medical Institute, a Paul Beeson Scholarship, and a Washington Monuments Award from the Alzheimer's Association, National Capital Chapter. Turner lectures widely, serves as a reviewer for granting agencies and biomedical journals, and has published more than 75 peer-reviewed papers, editorials, and book chapters. Click here to download a PDF of Scott Turner's presentation.

William Vaughan worked for various members of the US House of Representatives' Committee on Ways and Means, before retiring in 2001 as staff director (for the minority) of the Health Subcommittee. Between 2003 and 2010, he worked on Medicare, national health care, and consumer health issues (with a heavy emphasis on FDA issues and FDAAA 2007) for FamiliesUSA and Consumers Union (the independent, non-profit publisher of Consumer Reports). In 2011 he consulted with the Union of Concerned Scientists on the Prescription Drug User Fee Act extension. Vaughan is currently a member of the board of directors of the National Committee to Preserve Social Security and Medicare. He is also a volunteer in the Consumers United for Evidence-Based Healthcare/Cochrane Collaboration effort and is a volunteer with the Virginia State Health Insurance Counseling Program. He recently completed service on an IOM FDA post-market approval drug safety study panel.

Northern Virginia Dementia Care Consortium Members:
AARP Virginia
Alexandria Department of Community and Human Services, Division of Aging and Adult Services
Arlington Aging and Disability Services
Alzheimer's Association, National Capital Area
Insight Memory Care Center
ElderLink, Options for Caregiving
Fairfax Area Agency on Aging
Fairfax County Health Department
Goodwin House Incorporated
GraceFul Care, Inc.