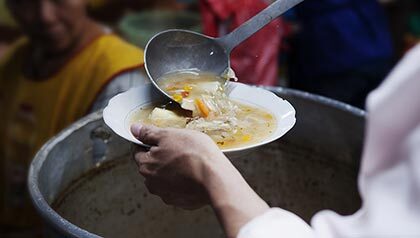 Fighting and ultimately ending hunger is a critical issue nationwide but particularly in Arkansas. That's because almost 1 in 10 older Arkansans are at risk of hunger-- which makes Arkansas the 5 th hungriest state in the nation.
AARP Arkansas is recruiting volunteers with a passion and interest in nutrition education. Volunteers would help raise awareness in their communities and potentially other parts of the state about resources available to fight hunger and best practices in nutrition.
AARP Foundation, AARP's affiliated charity, has a long history of helping out financially with the fight against hunger, and AARP in Arkansas participates annually in key events such as Stamp Out Hunger with volunteers playing a key role.
More information about volunteering to help raise awareness in Arkansas about nutrition education is available by contacting Lou Tobian at 501-217-1638 or ltobian@aarp.org