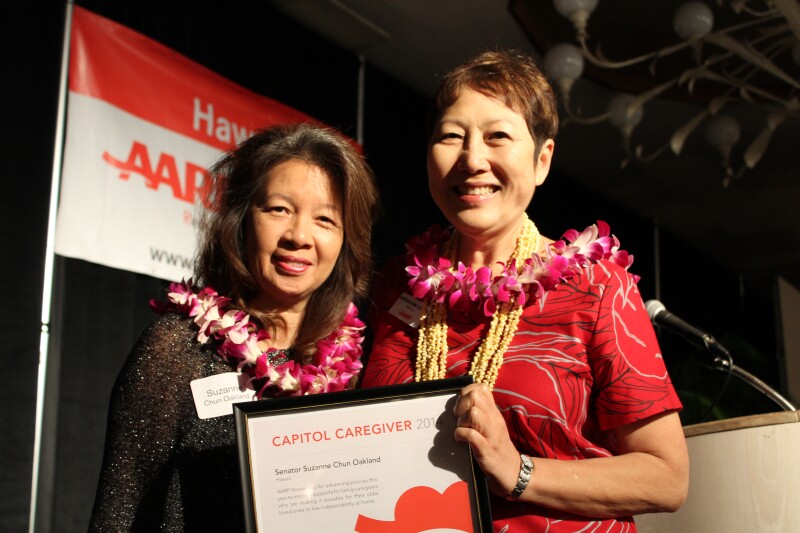 Every day in Hawaii a silent army of family caregivers performs a labor of love by helping parents and spouses remain at home. An estimated 154,000 family caregivers in Hawaii help older loved ones with everything from medication and medical care, meals, bathing, dressing, chores, and much more.

On Saturday, November 7, AARP Hawaii kicked off a month-long celebration honoring family caregivers in Hawaii and across the country with a Caregiver Conference in Honolulu. The event was held in connection with National Family Caregivers month in November. Highlights included the presentation of a 'Portrait of Care' to Elvira and Deidre De Jesus of Waipahu and recognition of State Senator Suzanne Chun Oakland with AARP's Capitol Caregiver Award for championing support of family caregivers at the state Legislature.

"Family caregiving is an issue that affects all of us in some way," said AARP Hawaii State Director Barbara Kim Stanton. "Whether you're caring for an older family member now, preparing to help in the future, or thinking about your own care needs, Hawaii residents are looking for answers. There is a critical need in our community for information and support for caregivers and their loved ones."

The event connected caregivers with information and resources to assist them and their families, and featured eight breakout sessions on topics ranging from "fall prevention" and "getting your documents in order," to "Medicare for caregivers" and "home modification for aging in place."

Participants were asked to help support passage of the CARE Act in Hawaii - a proposed measure that would help family caregivers when their loved ones return home from a hospital stay.

Many Hawaii baby boomers and their families face the challenge of caring for an aging parent. In a recent survey of Hawaii registered voters age 45+, more than half (53 percent) said they are currently providing or have provided unpaid care to an adult loved one. More than three in five respondents (63 percent) said it is likely that they will provide unpaid care to an adult loved one in the future.

AARP is dedicated to supporting family caregivers so they can safely care for their older loved ones at home – keeping them out of nursing homes, and preventing unnecessary hospitalizations. Visit the AARP Caregiving Resource Center for tools and information to help family caregivers.