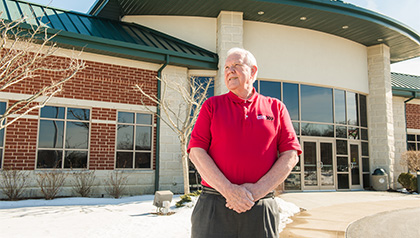 By Vince McKelvey

Bob Rankin, of suburban Cincinnati, spent part of his working life overseeing training, so it was only natural that, once he had taken an AARP Driver Safety course, he'd want to teach it.

"They were talking about getting instructors," said Rankin, 80, who spent 43 years with Ryerson Inc., a metals distribution company. "When I was working, I was the regional manager of training, and I said, 'This looks pretty neat.' "

That was in 2004. Now, as AARP Ohio Driver Safety deputy state coordinator for training, he's helping to usher in the latest version of the class, now called the AARP Smart Driver course.

In his view, a good course has gotten better. "It's all research-based strategies to reduce the likelihood of having a crash," he said. "It has been tested and … proven that the thing really works."

AARP has been offering a course designed for drivers over 50 since 1979, with 55 Alive. The purpose is to help people stay safe and "prolong the independence and mobility of older drivers," Rankin said.

Smart Driver debuted in January and is the product of extensive research involving Eastern Virginia Medical School in Norfolk, transportation safety experts and a host of AARP volunteers nationally, including Rankin and Kenneth Killby, AARP Driver Safety state coordinator in Ohio.

Killby, who lives near Canton, said people who have been driving for years can become complacent, and a key piece of the course focuses on change—in cars, in traffic laws, in road design, even in people.

"People lose sight of the fact that they themselves have changed," said Killby, a former emergency medical technician assistant who has been involved with AARP Driver Safety for 14 years. "If you're a safe driver, you can drive longer."

Strategies for adapting

Among other issues, the four-hour class addresses how aging, medications and health can affect driving, and it offers strategies to help—from planning for a trip to knowing when not to go.

"There is a connection between the driver, his or her vehicle and the road, and this awareness encourages a safer behavior," Rankin said.

The Smart Driver Course is taught by certified instructors at a variety of community centers and other sites throughout Ohio. The course also is available online.

It's one of four AARP Driver Safety programs for older people, along with CarFit, We Need to Talk, and the interactive, online Driving Resource Center at aarp.org/drc.

Last year, nearly 3,400 Ohioans took the Driver Safety course, two-thirds of them in a classroom setting. Killby said participants receive a certificate that is good for three years and often earns them an insurance discount.

AARP Ohio is actively looking for people to teach the course. Training for volunteers includes online work, one-on-one instruction and supervised teaching. Instructors receive a modest stipend for expenses. There are about 70 instructors statewide.

Rankin, for one, is happy with his decision a decade ago to volunteer. "I love it. It's great," he said. "If one person leaves here and drives more safely, I sleep well at night."

To locate a class, or to volunteer, go to aarp.org/drive, or call 888-227-7669 toll-free. A class is $15 for AARP members and $20 for nonmembers. Online, the cost is $17.95 and $21.95. April is National Distracted Driving Awareness Month. The online course is 40 percent off from April 1 to April 30 with the promotion code APRIL40. To register for the online course, go to aarpdriversafety.org.
Vince McKelvey is a freelance writer based in Dayton, Ohio.