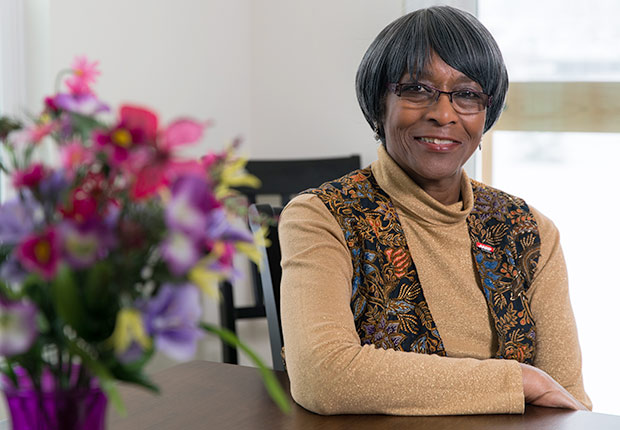 By Sarah Hollander

Cris Hughes credits the man who scammed her with giving her the energy and passion to help the next potential victim.

When Hughes leads AARP Fraud Watch Network workshops, warning about new scams, she talks about the charlatan who reeled her in at church, where her guard was down. She bought into a Ponzi scheme masquerading as a solid investment.

The Richmond Heights resident, 66, learned of Fraud Watch when she began looking for a volunteer opportunity last year.

"I had a lot of anger that I wanted to do something with," said Hughes, a retired IT professional. "It's a perfect fit. It's been very therapeutic for me, and I'm also able to help other seniors."

Hughes is one of about 2,000 AARP volunteers in Ohio. Most donate their time through AARP Foundation Tax-Aide, a program that helps low- to moderate-income people with free tax preparation. Others help with Driver Safety programs and Experience Corps literacy tutoring, or as advocacy volunteers, speakers bureau presenters or event assistants.

The importance of volunteers for an organization like AARP can't be overstated, said Mike Barnhart, 75, of Centerville. He's AARP Ohio state president and a volunteer.

"We only have 10 full-time staff members in Ohio. That's typical of the nation," Barnhart said. "AARP is a big organization, but most of the work is done by volunteers. I think that's really its power base."

Melanie Moon, of Cincinnati, volunteers with AARP's Life Reimagined, a program that guides people facing major life changes such as retirement or the loss of a spouse.

Moon, 63, led workshops last year after training in the program's holistic approach. The timing proved opportune when Moon was laid off from her librarian job in June.

"It became very real for me," she said. "Right now I'm having to make some very hard decisions."

Life Reimagined encourages participants to identify their passion to find their purpose. For Moon, that was health and fitness.

She began exercising regularly in 2002 and eventually progressed into instructing others. Her gigs, including SilverSneakers and YMCA group fitness classes, yoga and more, are now keeping her healthy and paying some bills.

Drawing on experience
For George Sonnichsen, 72, of Westerville, volunteering for AARP gave him a new focus. Sonnichsen retired from a career in finance and accounting and moved to Ohio from Minnesota in 2003.

"When I got here I was looking for something to do, and I wasn't particularly interested in stuffing envelopes," Sonnichsen said. "I was looking for something a little more challenging."

He zeroed in on health care, an area of high importance to older people that he felt comfortable talking about. As an AARP volunteer, Sonnichsen has educated citizens and helped legislators understand the impact of legislation.

He testified in 2009 before a state Senate committee looking into how Ohio might rewrite health care insurance laws.

"It was just amazingly different, something I never would have done otherwise," he said. "That really helped me to grow as a person."

AARP respects its members' knowledge and experience, providing the support they need to develop their own ideas, Sonnichsen said. And flexible timing helps, too. Sonnichsen travels out of state most summers but volunteers when and where he's able.

Whether members' skills are very specialized or more general in nature, there's a job to fill, he said. "There really is something for everyone," Sonnichsen said. "And, with good volunteer opportunities like these, you're gaining as much as you're giving."

For more information about AARP volunteer opportunities or to sign up as a volunteer, email ohvolunteers@aarp.org or call 866-389-5653 toll-free.

Sarah Hollander is a writer living in Cleveland.