BJ Blanchard was selected by AARP, the nonprofit organization for people 50 and older, to receive the 2017 AARP Ohio Andrus Award for Community Service -- the Association's most prestigious and visible state volunteer award for community service.

AARP Ohio selected Blanchard for her remarkable service which has greatly benefited the community, supported AARP's vision and mission, and inspired other volunteers.

She has been volunteering as an Ombudsman Associate at Long Term Care Ombudsman (LTCO) for over 25 years. LTCO is a non-profit organization that advocates for long-term care consumers, whether they live in a nursing home or their own home and services five counties (Cuyahoga, Lake, Geauga, Lorain and Medina), which include over 550 facilities. BJ was certified in 1992, after completing a 20+ hour training and testing program. She was then assigned long-term care facilities and is responsible for conducting regular visits, meeting with residents to inform them of their rights, listen to and investigate their concerns, advocate and negotiate on their behalf, and help them maintain their independence and the highest practicable quality of life.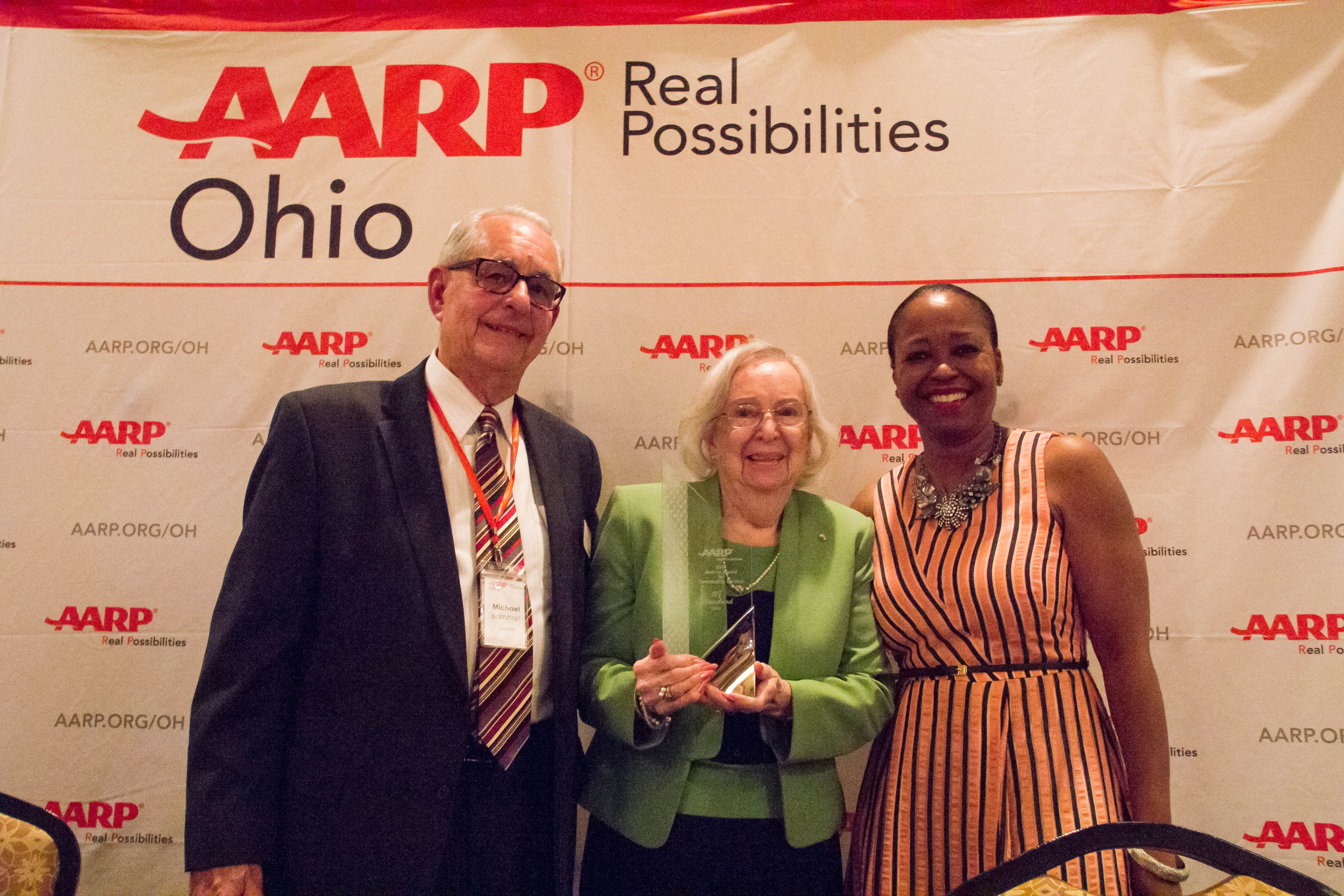 Not only does Mrs. Blanchard's volunteer work as an Ombudsman Associate support the vision and mission of AARP, she personally embodies the goals of AARP. At 89 years young, she is a role model to long-term care residents that you are never too old to fulfill your goals and dreams and she is aging with dignity and purpose every time she successfully resolves residents' complaints about care, their living situation, and treatment by staff.

She has devoted hundreds of volunteer hours in advocating for thousands of consumers. Working with Ombudsman Specialists, she has resolved hundreds of cases, ranging from complaints about food to abuse of residents. Since over half of all people living in long-term care facilities do not have family or visitors, BJ is indispensable in helping their voices be heard, empowering them, and improving their quality of care and life. Without the visits and attention from BJ, no one might ever notice these residents or address their issues, and no one would advocate for their human needs and legal rights.

The award was formally presented to Blanchard to at a ceremony during the annual AARP Ohio statewide volunteer meeting, held Oct 30-31 in Dublin, Ohio. This year, AARP Ohio also presented a check of $1500 to the Long Term Care Ombudman organization in honor of Blanchard.

"This award acts as a symbol to the public that we can all work together for positive social change," says Barbara A. Sykes, AARP Ohio State Director.  "AARP has long valued the spirit of volunteerism and the important contributions volunteers make to their communities, neighbors, and the programs they serve."

Recipients across the nation were chosen for their ability to enhance the lives of AARP members and prospective members, improve the community in or for which the work was performed, and inspire others to volunteer.

In addition to Blanchard, five other Ohio volunteers were recognized for their contributions to their community:

Excellence in Tackling Hunger- Mattie Mims

Since 2013 Mattie has run the kitchen to prepare and serve hot meals for over 150 people, including Open M's preschool each day. Open M is a non-profit providing family development and job training, food and medical clinic in south Akron. She also volunteers at the Canton Regional Food Bank and prepares and serves meals at Haven of Rest - for Akron's homeless. She also prepares and delivers meals to the Akron Fire Department and Cuyahoga Falls Fire Department two to three times a month. And in Sutcliff Towers, the low-income apartments where Mattie resides, she prepares and serves hot meals for holidays and special occasions for seniors. She is also active in the family and children ministry at her church, the House of the Lord Church.

Excellence in Innovative Solutions-Lori Erion.

Lori is the founder of Families of Addicts (FOA) in Dayton, Ohio. The Dayton area possesses the unfortunate distinction of having the highest overdose rate in the nation. Lori, herself in long-term recovery for more than 11 years, has earned the respect of the entire recovery community – professional, governmental, treatment providers and non-profits because of her knowledge of addiction and her dedication to removing the stigma of addiction, advocating for all who are affected and encouraging recovery options. In spite of her own journey into recovery, she was completely unprepared to deal with her daughter's heroin addiction. Seeking knowledge and contact with others in the same situation, she created a group that has grown to 80-100 people of all ages meeting weekly in the greater Dayton area.
It is a grass-roots recovery support initiative working to reduce the stigma of addiction, ensure availability of adequate treatment/recovery support services and to influence public opinion and policy regarding the value of recovery. This vision has people from all over the U.S. asking if FOA is available in their town. The goal is recovery, no matter the path. Lori's efforts have helped others reduce stress, save lives and improve the quality of life for countless people. Lori's presence in the media has helped advocate for reducing the stigma, explained the reality of addiction, showed that addicts are much more than just their addiction and promoted increased treatment options throughout the community. She and FOA have been featured on all the local news channels, special in-depth reports, a national documentary and most recently, a round-table with Mark Zuckerberg, CEO of Facebook.

Excellence in Bridging Technology- Gary Sams

By providing his expertise as an electrical engineer, for more than 12 years, Gary has ensured the continuation of Employment for Seniors(EFS) services for those struggling to secure their homes, find a job, and keep their family safe. For 45 years, Employment For Seniors has assisted individuals aged 50 and older, living in Central Ohio, in their employment search. EFS strives to provide services to the mature, experienced worker matching them to employers who are "senior-friendly". The jobs database is critical to that process. At this time, EFS has over 5,500 individuals in "active" status on our client database. During 2016 we registered 880 new clients, posted 1,300+ jobs and provided thousands of other careers services ALL electronically due to the efforts of Gary Sams. The number of mature job seekers has greatly increased over the past years and technological changes have taken over the job search process. Instead of colliding with technology, EFS can manage client numbers, extend services to employers and provide tools to move seniors back into the workforce.

Excellence in Uniting Generations -Dave Gynn

As the President of the Portage County Retired Teachers Association (PCRTA), he was asked if his members would volunteer to proctor the tests for the NEOMED (Northeastern Ohio Medical University). He negotiated with NEOMED to develop a plan where the Portage County Retired Teachers members would volunteer to proctor tests; and NEOMED, in exchange, would contribute to PCRTA's Future Teachers' Scholarship Fund. The next step was to recruit fifty volunteers and devise the scheduling plan. In the last ten years, about 75 volunteers have proctored over 5,000 hours and earned over $50,000 for the scholarship fund. This year PCRTA will award seven $1,500 scholarships to high school students (18 students applied) planning to become teachers.

Excellence in Disrupt Aging -Marian Faye. Marian (Mitzi) Faye is a 92 year old widow. She goes to the Art Therapy room at an independent living, assisted living, and a nursing home option, once every week. A lifelong artist, Faye teaches and assists the art therapist and helps residents one-on-one to express themselves through a variety of artistic mediums. She is a role model for those who come to her art sessions. They see themselves in her- an elderly woman, often older than themselves, with physical challenges not so very different from what they deal with- and are inspired, motivated and energized. She touches something inside each person because she is one of them, and gives them a medium for both connecting with themselves and the outside world.

Highlights from the 2017 AARP Ohio Andrus Award and Volunteer Summit Celebration:




At AARP, our volunteers are the heart of everything we do, and we are pleased to be able to recognize other volunteers who are upholding the AARP values throughout our great state. If you would like to learn more about becoming a volunteer with AARP Ohio please email us at ohvolunteers@aarp.org or call us toll-free at 1.866.389.5653.