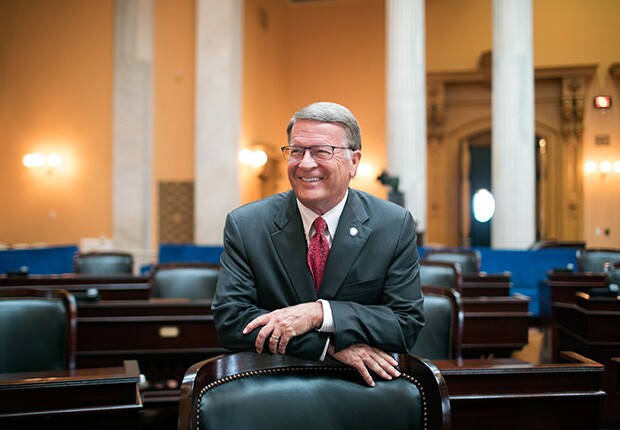 By Sarah Hollander

An older woman withdraws $300 a month for years from her local bank. Suddenly, she's withdrawing large amounts at atypical times. She could be paying for a new water heater or a grandson's tuition. She might also be in the grip of a scammer draining her savings.

This is the kind of scenario state Rep. Wes Retherford (R-Hamilton) had in mind when he sponsored a bill requiring financial professionals to report potential elder fraud. The legislation, backed by AARP Ohio, was enacted earlier this summer.

"They're really on the front lines," Retherford said. "Our goal is to get financial professionals looking into these things before it's too late."

State Sen. Steve Wilson (R-Maineville), a banker for 41 years, has seen all types of elder fraud. He backed a similar Senate bill he said would help identify and thwart the problem.

"When these professionals truly believe there's been fraud, this gives them a way to immediately get Adult Protective Services involved and to solve the problem," Wilson said.

The list of those required to report fraud had included doctors, clergy, attorneys and nursing home employees. This legislation adds bank employees, accountants, financial planners, investment advisers and others.

While electronic banking has become popular, many older customers still make regular visits to a local bank, Wilson said. Employees get to know them and their financial habits.

Wilson and Retherford worked with bankers, credit unions and other financial associations to develop their legislation.

"It's a step in the right direction," said Ohio Bankers League spokesman J.T. Thurston.

Protection from lawsuits
Some banks already report signs of fraud, Thurston said. This measure, however, provides immunity from liability when reports are made in good faith. Removing the fear of lawsuits, firings or demotions should increase reporting, he said.

Reports will be funneled to county-level Ohio Job and Family Services departments, which oversee Adult Protective Services (APS). To help pay for the extra workload, Wilson may seek new fines of up to $50,000 for offenders convicted of fraud-related crimes against those 65 and older.

"We appreciate the innovative thinking," said Beth Kowalczyk, chief policy officer at the Ohio Association of Area Agencies on Aging. But, she added, the fine would make only a dent. Her agency will continue to advocate for bigger APS budgets.

The extent of elder financial fraud is challenging to track, according to Jonathan Blanton, Consumer Protection Section chief in the office of Attorney General Mike DeWine (R).

Many cases go unreported because the offender is a family member or caregiver. Some victims are embarrassed or worried that if they seem too vulnerable they will lose their independence, he said.

Scam artists have honed their skills and can persuade a wide range of people, Blanton said. Removing the social stigma could lead to more reporting, he added.

Wilson also wants the state to make at least six annual TV and radio ads on the warning signs of elder fraud and the ways to report it.

"We may never stop it," Wilson said. "But we want to at least slow it down."

To report a case of suspected fraud, call APS at 855-644-6277.

Sarah Hollander is a writer living in Cleveland.