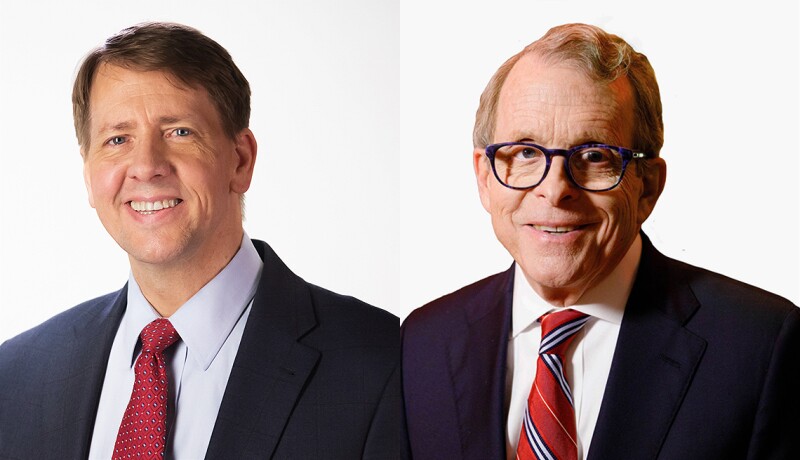 By Ben Lanka

Ohio voters have a rematch this fall, but the stakes are much higher this time for Mike DeWine and Rich Cordray.

In 2010, DeWine defeated Cordray by fewer than 50,000 votes to succeed him as attorney general. They square off again Nov. 6 to decide the governorship.

At 71, DeWine, a Republican, has served the past eight years as attorney general. Previously, he was a congressman and U.S. senator as well as lieutenant governor and state legislator.

Cordray, 59, a Democrat, previously served as a state legislator, solicitor general, treasurer and attorney general. In 2010, he was selected by President Barack Obama to be the first director of the Consumer Financial Protection Bureau (CFPB).

The next governor will face an aging state population. By 2040, the number of Ohioans 60-plus is expected to be nearly 50 percent larger than it was in 2010, according to Miami University's Scripps Gerontology Center.

That trend makes the role of caregiver increasingly important. Ohio has more than 1.4 million people assisting someone who needs help with day-to-day living.

In interviews with AARP, both DeWine and Cordray said they support the goal of providing care at home because it is typically better for the person being helped and is less expensive.

Help for caregivers

The state's HOME Choice program helps people transition from nursing homes or other facilities to home and community-based care, but many caregivers are family members who receive no financial assistance.

DeWine said he is open to tax deductions that could help family caregivers: "We want to do everything we can to encourage family members to care for family members."

Cordray said he would work with counties and nonprofits to ensure they are providing the best information to families who have a member needing care.

He said it can be difficult to navigate the decisions a caregiver must make, such as how many hours of professional help are needed. "If we can help them on the logistics, that goes a long way," he said.

Both highlighted efforts to protect older residents from fraud.

As attorney general, DeWine created an elder justice initiative to help prevent financial abuse. It provides information to older adults and resources to law enforcement to investigate abuses.

Cordray created the CFPB's Office for Older Americans to inform people of fraud and abuse threats.

Saving for retirement is also a key issue. AARP estimates nearly 1.9 million Ohioans work for an employer that does not offer a retirement savings plan.

Several states are setting up programs to give businesses and employees access to savings accounts. Cordray said he would explore tax incentives to help employers provide an option for retirement investing.

DeWine said he would work as governor to ensure Ohio's tax code treats retirement savings options favorably.

Cordray said the state's Medicaid expansion, which has provided health insurance for 702,000 low-income Ohioans since 2014, is at risk in this election. He strongly supports it.

DeWine said that while he looks for reforms to Medicaid, he is committed to ensuring "seniors will be covered, and very adequately covered."

Ben Lanka is a writer living in Westerville, Ohio.