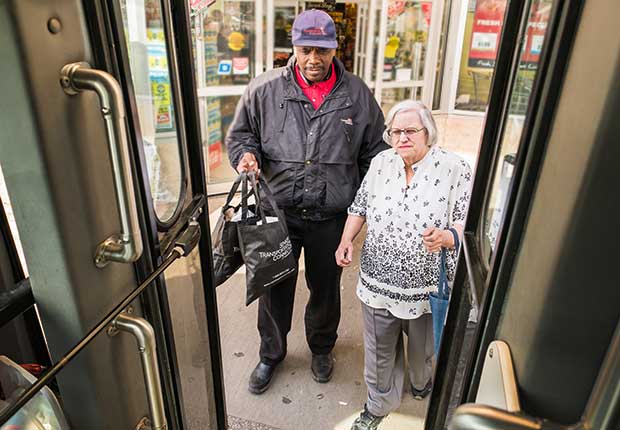 By Sarah Hollander

Before a new senior transportation service spread citywide in Cleveland, Helen Dougherty depended on her son for rides or she stayed home. Now she takes a small bus from her apartment to the grocery store and medical appointments.

With door-to-door service for $1.25 and no steep steps to challenge her replacement knees, Dougherty, 67, is a fan. "It certainly has made my life better," she said.

Affordable, accessible transportation is one of the key goals in efforts to encourage age-friendly communities around the world.

The World Health Organization launched its Global Network of Age-friendly Cities and Communities in 2006 to help localities prepare for rapidly aging populations. AARP is WHO's exclusive partner in the United States, helping advance the mission. So far, 87 U.S. communities have joined the network.

Participating localities take a comprehensive look at transportation, housing, outdoor spaces, social activities and civic participation. What's working to keep older adults active? And what's lacking?

"In many cases, what's good for older adults is good for all," said Doug Tayek, associate state director for community outreach for AARP Ohio.

Curb cuts and clearly defined crosswalks, for example, can appeal to an octogenarian with a walker, a young parent with a stroller and walking club members in their 50s.

How the program works
In Ohio, Cleveland and Columbus joined the network in 2015. The portion of the population 60 and older in their respective counties is expected to grow to 31 percent and 20 percent by 2030.

Joining the network requires a five-year commitment. An assessment comes first, then a plan, and finally, implementation and review.

Cleveland signed on because of the physical and social issues that come with aging, as well as the financial insecurity, said Jane Fumich, director of the city's Department of Aging. About 40 percent of Cleveland residents 60 and older are living in or near poverty.

"As we move the city forward, we must move those with the greatest needs forward with us," Fumich said.

The nonprofit Center for Community Solutions reached out to more than 1,000 residents 60 and older through surveys, questionnaires and focus groups. The resulting assessment showed that Cleveland is doing a lot right, Fumich said. But there's still work to do spreading the word about existing services and finding new solutions, she said.

Safety was a key concern for older adults when navigating their neighborhoods and using public transportation.

Many participants said they need more help to stay in their own homes, and they're looking for chore services, home repair programs and help with snow removal. The city could also work with businesses to add benches and more accessible public restrooms, they said.

The plan now, according to Fumich, is to find various agencies, as well as private or government funding, to tackle specific goals.

In Columbus, which has grown through annexations over the years, the age-friendly movement looks a bit different. The city is more spread out than Cleveland. And, unlike in Cleveland, its population is growing.

Many of the ideas for handling future growth—such as compact mixed-use development closer to the city center—would suit both older adults and millennials, said Katie White, age-friendly community coordinator for the Mid-Ohio Regional Planning Commission, which is managing the age-friendly project in Columbus.

The extensive self-assessment that comes with network membership will give Columbus a practical road map moving forward, she said.

"We know we're going to have more older adults than we've ever had," White said. "Let's get ready, and let's embrace the change."

For more information, go to aarp.org/livable.

Sarah Hollander is a writer living in Cleveland.