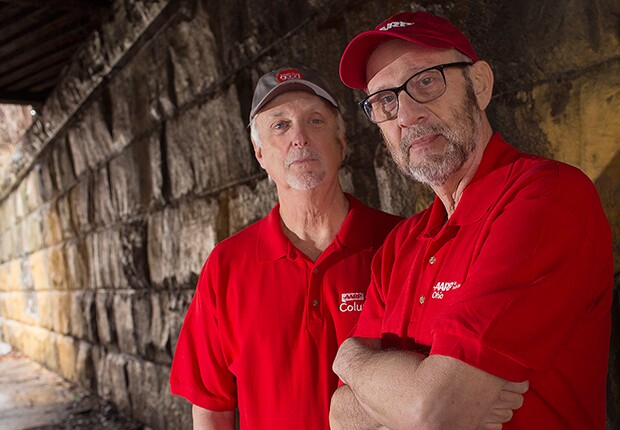 By Noreen Willhelm

When the federal government announced that Medicare recipients would receive new cards that did not include Social Security numbers, Ohioans began getting calls from parties offering to send the cards right away—for just "$20 and all of your identifying information," said Phil Smith, an AARP fraud fighter.

Recently, scammers have been offering services that are allegedly just for veterans. The callers claim they can "get you better veterans benefits if you send [them] $20," said Mike Kessler, another AARP Ohio fraud fighter.

Smith, 66, of Dublin, and Kessler, 69, of Columbus, are among nearly three dozen AARP-trained volunteers who alert older residents about emerging scams through the AARP Fraud Watch Network.

A retired marketing and sales executive, Smith began volunteering with the Mid-Ohio Foodbank in Grove City. Then he heard about the Fraud Watch Network.

That was two years ago. Since then, he has become a passionate advocate for fighting fraud, giving presentations to groups on topics from cybercrime to identity theft.

"This thing about seniors getting scammed—I wanted to get involved," he said.

Smith and Kessler, a retired mental health professional, sometimes do tag-team presentations to groups and have become trainers for other antifraud volunteers. The number of volunteers has increased recently in response to growing demand.

"We did a training in Mansfield," Kessler said. "Phil or I will mentor them, give them feedback on their presentations.

"We get a PowerPoint with narrative to go with it," he said. "Then Phil and I ad-lib, constantly. You pick up info from the AARP Bulletin, [AARP The Magazine] or online. We'll add something new to keep it fresh."

Sharing stories to inform
Invariably, the presentations result in people telling their own stories of brushes with fraud.

"When you get everybody talking, they hear it from a third party; then they hear it from their own group," Smith said.

Kessler recalled the account of a woman in Dublin whose house had a security system sign out front. Two men appeared at her door, recommending that her system be updated.

"Instead they came in and installed a whole new system. Now she's stuck with it," he said. "Hearing those kinds of stories and passing them on helps to inoculate others."
One of the challenges is to encourage people to overcome their inclination to trust everyone.

"Someone knocks on my door, someone calls my home, I think I should be polite and talk," Smith said. "No. Don't answer the phone; let it go to voice mail. Don't click on links. Be on guard. Don't be so easygoing."

Among the common scams are the repair person who claims to be in the neighborhood with leftover materials; dinner programs offering discount vacation accommodations; and get-rich-quick investment opportunities.

"You do not have to sign up on the spot for whatever it is they're selling," Smith said. "Take a pause. Do some research. Be on guard. Knowledge and awareness is how you prevent it."

Sign up for antifraud alerts and other resources at aarp.org/fraudwatchnetwork or call the Fraud Watch Network help line at 877-908-3360.

To request a presentation for your group or to learn more about becoming a Fraud Watch presenter, email ohvolunteers@aarp.org.

Noreen Willhelm is a freelance writer who lives on a farm just west of Dayton, Ohio.