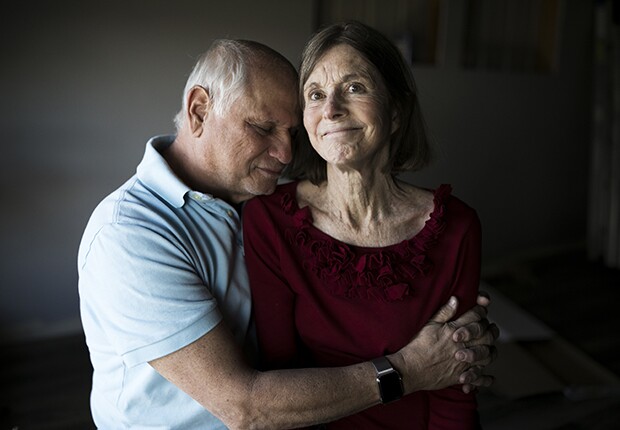 By Sarah Hollander

Bruce and Ann Williams are both 70. But with the progression of Alzheimer's disease, Ann, a retired speech pathologist and preschool director, has mentally reverted to early childhood.

Bruce has served as her full-time caregiver for several years, taking on household chores and personal care at their home in Commercial Point, south of Columbus.

"Basically, I'm her everything," Williams, a retired engineer and inventor, said. "Caregivers like me are essentially running a nonprofit care facility out of our house, with one patient."

In the 2019 legislative session, starting Jan. 7, AARP Ohio plans to advocate for Williams and the estimated 1.6 million other family members voluntarily caring for spouses, parents and other adults in the state.

On the agenda: more state support for home- and community-based long-term care.

Tax relief and other caregiver assistance could make it feasible for more people to remain at home longer, said Luke Russell, AARP Ohio government relations manager. The state could save money in the long run by delaying or eliminating, in many cases, the need for full-time professional or institutional care, he said.

"With any survey we've ever done, nearly 9 out of 10 of our members say they want to stay in their own home as long as possible," Russell said. "This should matter to elected officials and people running for office."

Emphasis on home services

AARP Ohio will continue its push for a tax credit to help family caregivers with out-of-pocket expenses, including home care, transportation, medical costs and physical improvements, such as construction of a wheelchair ramp.

The organization has weighed in on MyCare Ohio, a managed health care program for residents eligible for both

Medicare and Medicaid that will likely go statewide next year. AARP Ohio wants access to home- and community-based services, such as respite care, to be a priority.

In addition, AARP supports the creation of a state-supervised paid-family-leave program for residents to look after a child, parent or spouse with a serious health condition.

AARP Ohio also continues to encourage retirement savings and favors efforts to create a state-backed work-and-save option for employees who aren't offered a savings plan or pension at work. Employers would set up a mechanism for employee contributions but wouldn't be required to pay into the plan.

Ohio's next two-year budget takes effect July 1. AARP will partner with the Ohio Aging Advocacy Coalition (OAAC) to focus on budget proposals that benefit older residents.

Because an age wave looms over the state, advocates feel an increased sense of urgency for major policy changes, OAAC Chair Barbara Riley said. The number of Ohioans 65 and older is projected to grow from about 1.8 million in 2015 to over 2.6 million by 2030 while the number of caregivers will likely decline.

"We can neither afford fiscally, or in human resources, to care for people as we have," Riley said. "And if we think we can do things gradually, we'll be so far behind we'll never catch up."

For legislative updates, go to aarp.org/oh. AARP Ohio is looking for legislative volunteers. Email ohvolunteers@aarp.org or call 866-389-5653 for more information.

Sarah Hollander is a writer living in Cleveland.