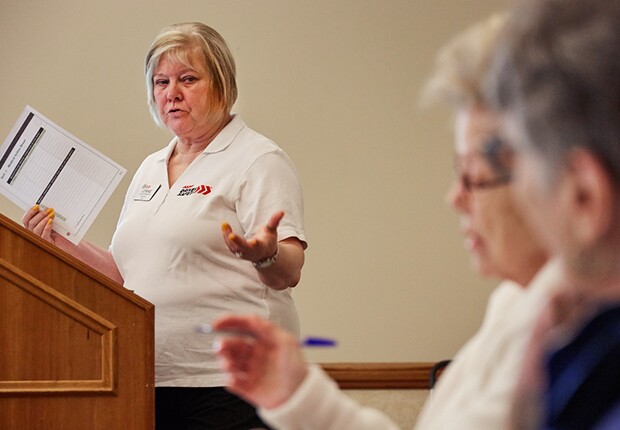 By Sarah Hollander

The rebirth of a 1964 Ford Mustang is one of Bob Rankin's favorite outcomes from the AARP Smart Driver course he teaches in the Cincinnati area.

One older driver, nervous about traffic, had let her late husband's classic Mustang languish in the garage for years. But by the end of the course, she felt confident enough to update the Mustang's papers and hit the road.

"She said, 'Now I can drive it in my husband's memory,' " recalled Rankin, 84, deputy state coordinator for AARP's Driver Safety program. "The satisfaction you see when light bulbs go on is really gratifying."

The Smart Driver course ( aarp.org/drive) is aimed at drivers 50 and older but is open to all. About 2,000 Ohioans took the classroom course last year at senior centers, schools and other venues; another 988 completed it online.

The four-hour refresher covers the latest driving laws and offers defensive driving and safety strategies. It also discusses age-related changes to eyesight, hearing and reaction times.

The in-person course costs $15 for members and $20 for nonmembers. The online version is $19.95 for members and $24.95 for nonmembers.

Motorists also learn about changes in vehicles and new technology, said Mike Kolesar, the program's state coordinator.

"When most of us were taught to drive, we were required to learn to parallel park," he said. "Now, we have to learn what button to push to have the car park itself."

Kolesar, 73, of Parma, signed up for the course about a decade ago. Like many others, he was enticed by the prospect of an insurance discount.

Possible discount
Unlike most states, Ohio does not mandate an insurance premium reduction for those who complete the course. But Kolesar recommends checking with an insurance agent because some companies will give a discount.

Lynne Peterson, 68, of Salem, who took the Smart Driver course a few years ago, relearned things she had forgotten or had become complacent about. She also learned about more recent car features, such as antilock brakes. Originally taught to turn into a spinout and not hit the brakes, Peterson now knows to stomp on her ABS brakes and steer in the intended direction.

"I walked out of there feeling pretty good about myself," she said. "I felt safer on the road."

A community theater actress, Peterson decided to became a volunteer instructor. "I'm a bit of a ham," she said, "so I'm enjoying getting up in front of people."

Peterson and other course leaders always address the sensitive topic of whether a person should continue driving.

"We all reach a point where it's not safe to keep driving, for ourselves or other people," Kolesar said. "The day will come when everybody has to stop driving, but it's not going to be the same day for everyone." AARP's related course, We Need to Talk, tackles this issue specifically.

Kolesar has had drivers as old as 95 in his course. Peterson remembers a husband and wife, 90 and 88, respectively.

"They were sharp as tacks," she said, and really just needed pointers on how to avoid congested areas and high-speed highways.

To find a class or to volunteer as an instructor, go to aarp.org/drive or call 877-846-3299 toll-free.

Sarah Hollander is a writer living in Cleveland.