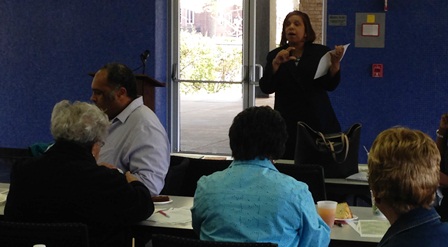 Sharing chapter management tips through guest speakers and training events, keeps AARP DC chapters "on top" of trends that lead to successful chapters. That's what happens when officers from District AARP chapters come together quarterly for half-day training sessions that includes a lot of idea sharing.

The most recent chapter leaders update and training session included guest speaker Sharon Binns-Stewart, from AARP's Office of Volunteerism and Service (OVS). Through Ms. Binns-Stewart's presentation, AARP DC chapter leaders learned about ways in which OVS resources can contribute to chapter success.

"I am a true believer that AARP chapters make a difference in their community. By participating in the District of Columbia's Leadership meeting, I was offered an opportunity to experience firsthand the "Real Possibilities" that AARP Chapters are creating in their communities," says Ms. Binns-Stewart. "I had an opportunity to confirm the Office of Volunteerism and Service's commitment to providing support and resources to AARP chapters."

During the month of April, AARP DC salutes chapter volunteers and all of its volunteers who donate their time and energy throughout the District to important causes.

About AARP Chapters
AARP members (age 50 and older) and their spouses are eligible for chapter membership. The first AARP chapters were organized in 1960. By 1961, over 100 chapters were organized. Today, there are over 1,400 AARP chapters across the United States, Puerto Rico, and the Virgin Islands. A minimal yearly fee is charged to help run the business of the chapter. Some chapters have fund-raising activities to help support local senior projects, provide scholarships for students, or donate money to worthy causes.
Our chapters offer another way to make AARP the next chapter in your life!
Click here to find a chapter in your area
.