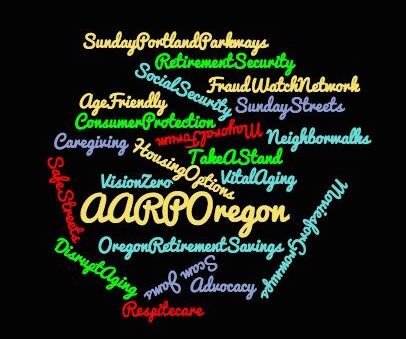 Sometimes when we're in the community, we'll hear from someone who says, "I've never met a real person from AARP!" Yes, there is an AARP Oregon State Office with a staff of 7 plus a great team of volunteer partners. We're active on issues that matter to you and your family. In this season of gratitude and reflection, we want to share with you some of the highlights from our work this year.

Engaged presidential and congressional candidates to "Take as Stand" on Social Security to assure it continues to meet its promise to current and future generations.
Continued to defend and strengthen Social Security and Medicare.
Secured new consumer protections requiring a fiduciary responsibility of Financial Advisors and engaged in litigation to protect older workers from discrimination.
Advocated the state legislature successfully to increase funding for family caregivers and support services for vulnerable Oregonians.
Supported and shaped the launch of Oregon's Retirement Savings Plan for July 2017 (with a volunteer serving on the Board of the Plan).
Helped to pass a gas tax in Portland with funds dedicated to safe streets in underserved areas.
Worked at the community level to improve transportation, housing and community services in the Portland metro area, Lane County and Southern Oregon.
Conducted "fun with purpose" programs including NeighborWalks, Sunday Portland Parkways, Sunday Streets, Retirement Trivia Nights, Vital Aging Conferences and Movies for Grownups.
Co-sponsored numerous state and local candidate debates and sponsored a Portland Mayoral Forum addressing Communities for All Ages & Abilities.
Co-hosted 4 Scam Jams with Oregon Attorney General Ellen Rosenblum and held a major event with former Con Artist Frank Abagnale.
Coordinated a stakeholder group and held active listening sessions across state that has resulted in a major set of Caregiver Respite policy recommendations for 2017.
Expanded the network of "Age Friendly" Cities now in Portland, Multnomah County, Springfield and Newberg.
We are thrilled to be at the center of an exciting new era of #DisruptAging. The work we do everyday builds on our aim of new Four Freedoms as crafted by our CEO Jo Ann Jenkins:
(1) Choice - to live where and how one wants to live;
(2) Earn - to work or manage financially in retirement;
(3) Learn - new technologies and ways to adapt to the future;
(4) Pursue Happiness - to feel purpose and find life's possibilities regardless of age.

Thank you staff and volunteers and most of all thank you AARP Members! Because of you, it's been a great year!

Elaine Friesen-Strang, AARP State President (Volunteer) and

Jerry Cohen, AARP State Director (Staff)