En Espanol | As worries about coronavirus safety at polling places and absentee ballot controversies swirl in other states, Oregonians are sticking to the voting process that's worked here for 20 years — universal vote-by-mail, with no in-person polling places:

Election Day is Tuesday, Nov. 3, and you'll need to deliver your completed ballot to an official ballot drop box by 8 p.m.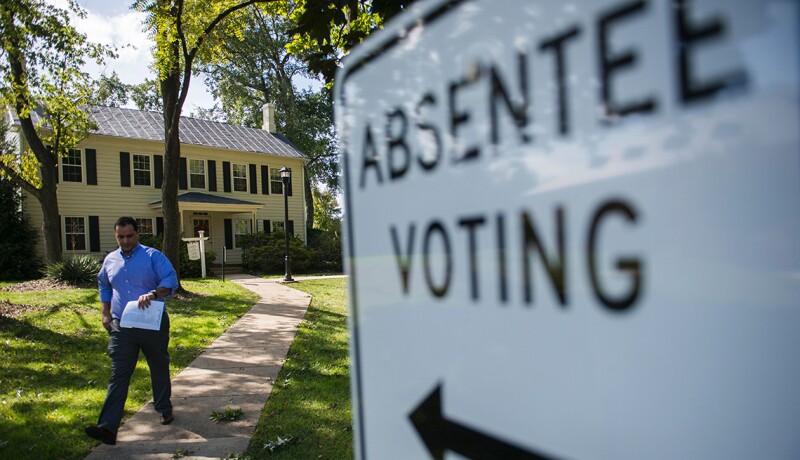 Here's what else you need to know:

How do I register to vote?

You can register online, by mail or in person. If you have an Oregon driver's license, permit or ID card number issued by Oregon Driver & Motor Vehicles Services (DMV), register online at the secretary of state's website. If you don't have one of these IDs, you can still use the online voter registration application. The information you enter will display on a PDF document that you'll need to print, sign and mail or deliver to your county elections office. Or you can download the registration form to fill out and send in. Register by 11:59 p.m. on Oct. 13 to be eligible to vote in the November general election, .

You can also pick up a registration application at your county elections office. And since the state's "Motor Voter" act took effect in 2016, Oregonians conducting certain transactions with the DMV are automatically registered to vote.

Check to see if you're registered and make sure your address is current, so you're sure to receive a ballot, at the secretary of state's website.

How can I get a ballot? Are there important deadlines?

Paper ballots are mailed to the address on file for every registered voter two or three weeks before Election Day, which is Nov. 3. If you don't receive a ballot, or make a mistake on your ballot, call or visit your county elections office for a replacement.

Are there also absentee ballots?

Voters who are traveling during an election, living part of the year in another state, or students attending an out-of-state college should request an absentee ballot. You can make the request online or download the form and mail, fax or deliver it your county elections office.

What is the deadline for mailing my paper ballot?

You should mail your ballot by Wednesday, Oct. 28, to ensure it's received by Election Day, Nov. 3. After the 28th, deposit your ballot in an official drop-box. Ballots must be received by 8 p.m. on Election Day to be counted.

How do I know my absentee ballot is secure?

Ballot packets mailed to voters include a secrecy envelope and an outer envelope. The completed ballot is placed into the secrecy envelope, which is then inserted into the postage-paid outer envelope. The voter signs the outer envelope and sends it via U.S. mail or delivers it to a drop-off location.

County workers check the outer envelope signature against your voter registration record. The ballots are removed from secrecy envelopes and tabulated on Election Day. Each ballot also has a unique tracking bar code. After the 2016 election, Oregon officials referred a total of 54 suspicious cases (out of more than 2 million ballots cast) to law enforcement for prosecution, amounting to 0.002 percent of ballots cast that year.

When Is Election Day?

Tuesday, Nov. 3. Ballots must be received by 8 p.m. on that day to be counted.

What are the key races in my state?

U.S. president
U.S. Senate: Incumbent Jeff Merkley (D) v. Jo Rae Perkins (R)
U.S. House: All 5 seats
State Senate: 16 of 30 seats
State House: All 60 seats
Oregon Secretary of State: Shemia Fagan (D), Kim Thatcher (R) and Nathalie Paravicini (Pacific Green Party)
This guide was updated on Nov. 2 with more information on drop box locations. Voting rules and procedures may change before Election Day. We'll update this story if they do, so bookmark this page and check back.

AARP is urging older Americans to ask the candidates 5 key questions:

Just over half of all older Social Security beneficiaries rely on the program for at least 50 percent of their income. If elected, how will you ensure that current and future Social Security benefits are not cut as part of deficit reduction?
Half of the people with traditional Medicare spend at least a sixth of their income on health care. If elected, how will you protect Medicare from benefit cuts, as well as lower health care costs and ensure seniors continue receiving the affordable health care they have earned?
COVID-19 has caused death and suffering for too many older Americans who require long-term care. If elected, how will you make sure seniors can access safe and affordable long-term care at home, as well as in facilities like nursing homes and assisted living?
Also of Interest