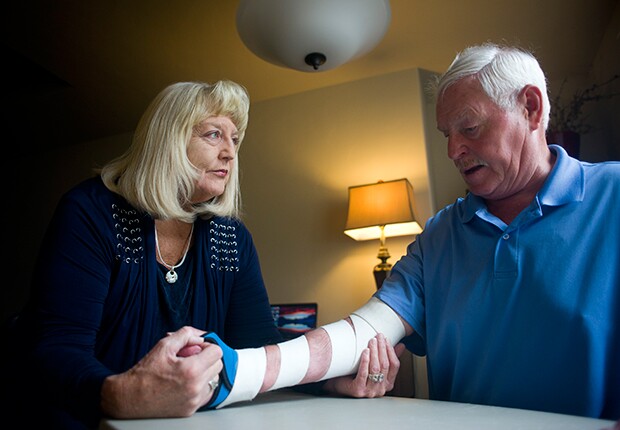 By Mac McLean

Deborah Bushlen, 61, became a full-time caregiver when her husband, Bill, 71, had a stroke two years ago that left him paralyzed on his right side.

"It's been tough," said Bushlen, a registered nurse educator who had to quit her job, close Bill's real estate business and move halfway across the state, from Joseph to Bend, so her husband could get the care he needs.

Recent studies have linked the experience of caring for a loved one to higher rates of stress-related illness, depression and suicide.

Adult day care centers and other respite care services can reduce this burden by giving family members a safe place to take their loved one while they take time off to relax or tend to their own needs.

"Getting a break is one of the most effective ways to keep caregivers from being stressed out," said Jon Bartholomew, AARP Oregon government relations director.

That's why AARP and other members of the Oregon Caregiver Respite Work Group, which includes state agencies, nonprofits and home care providers, are crafting recommendations they hope will improve the state's respite care system. The Legislature is expected to consider some of these proposals when its next session starts in February.

A 2015 report by the AARP Public Policy Institute and the National Alliance for Caregiving found that 22 percent of family caregivers in the U.S. think that their health has gotten worse since they started looking after a loved one.

The findings were echoed in a September 2016 report from the National Academies of Sciences, Engineering, and Medicine, which noted that 20 percent of caregivers have experienced financial or physical difficulty and 44 percent have had emotional difficulty.

"Caregivers have to be careful because you're thinking about the other person 24 hours a day and nobody is thinking about you," said Bushlen, who tries to relieve her caregiver-related stress by swimming, exercising and attending caregiver support groups.

Spreading the word
Respite care services provide caregivers with another way to ease this burden, Bartholomew said. But more people could use the services available if they knew where to find them and the programs that can pay for them. Bartholomew said the work group aims to inform caregivers about resources by launching a statewide public relations campaign to promote Oregon's network of respite care services and the benefits of using them.

He said the work group will also encourage health care providers and others to start new respite care services if these are lacking in their areas.
A report the task force released last month contains several recommendations to address the access issue, including:

Changing Medicaid's reimbursement rules so new adult day care centers don't have to wait six months before accepting Medicaid patients.
Encouraging community colleges to set up adult day centers as part of their nursing and other programs and giving students credit for working there.
Streamlining the state's long-term care rules so it is easier for adult foster homes and assisted living facilities to host guests for just one or two nights.
Bartholomew said AARP Oregon will be counting on its members to help make sure the work group's recommendations get lawmakers' attention during the coming legislative session.

AARP will also be supporting a paid family and medical leave insurance system for workers that would be funded through payroll deductions to cover illnesses or the addition of a new child.

"We just want to do whatever we can to help family caregivers," Bartholomew said.

Mac McLean is a writer living in Bend, Ore.