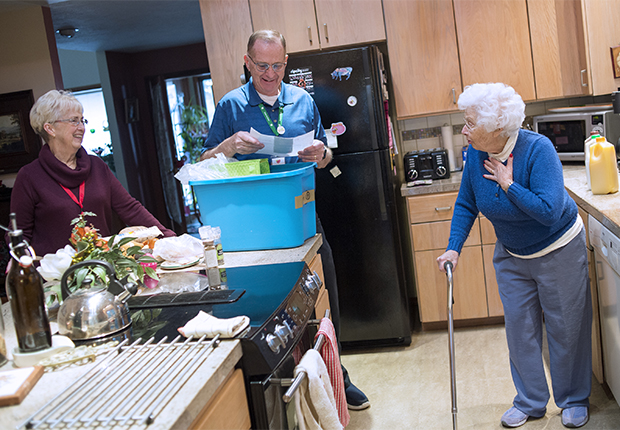 By Mac McLean

Jerry and Priscilla Stewart volunteer for Portland's Store to Door, delivering groceries to older adults, which helps them maintain their independence.

The couple cherish spending this time together because they get to meet new people and check on their welfare.

"You get to know them," said Priscilla, 76, who takes orders by phone from her clients while her husband, Jerry, 78, does the shopping and deliveries. "One lady says to me every week, 'Thank you for allowing me to age in place.' "

The Stewarts say they volunteer because it gives them a chance to stay active, helps people in their community and gives them satisfaction.

Ruby Haughton-Pitts, AARP Oregon's state director, encourages all people to give their time and volunteer somewhere.

AARP Oregon always welcomes new faces. Visit aarp.org/iwant2volunteer and fill out the electronic form to sign up. An AARP staff member or volunteer will then contact you.

Haughton-Pitts touted the benefits of volunteering for AARP Oregon or any organization, including meeting new people and making friends. Sometimes volunteer opportunities lead to a paid job or new career prospects.

Haughton-Pitts is a case study in reinvention. She began volunteering for AARP Oregon before moving to Chicago several years ago. Volunteering there with AARP Illinois eventually led to a full-time job as an advocacy and outreach director. That, in turn, led to her returning to Oregon as AARP state director.

Looking for a challenge and a way to do some good in your community?

AARP Oregon put together a list of organizations that work with older adults and need volunteer help.

Here's how to get involved.

AARP Foundation Tax-Aide helps low- to middle-income adults 50-plus prepare their taxes. Enjoy number crunching? Volunteer tax preparers are trained and IRS certified. Find more information on volunteering at aarp.org/taxaide.

AARP Driver Safety Program - Become a part of the safe driving solution in your community! Join more than 5,000 AARP Driver Safety volunteers nationwide teaching and organizing the award-winning AARP Smart Driver™ classroom course curriculum. https://www.aarp.org/auto/driver-safety/volunteer/

Elders in Action needs people to give presentations about elder abuse and to raise awareness about programs that provide direct services to low-income older adults. Contact Laura Berrutti at laura@eldersinaction.org or call 503-595-7533.

The Oregon Long-Term Care Ombudsman program seeks volunteers who can address the concerns of people who live in nursing homes, residential care facilities, assisted living, and adult foster care homes. Go to oltco.org/ltco/volunteer.

Meals on Wheels volunteers deliver food and visit with homebound adults. For more details, visit mealsonwheelsamerica.org or call 888-998-6325.

Ride Connection coordinates transportation for older adults with limited mobility and is looking for drivers. Call 503-226-0700 or visit rideconnection.org.

Senior Health Insurance Benefits Assistance is a state program that explains Medicare insurance choices and rights through counseling, education and referrals. Visit healthcare.oregon.gov/shiba/.

Store to Door is always seeking area residents like the Stewarts, who can take grocery orders from homebound adults in Portland and make deliveries. Go to storetodooroforegon.org/volunteer or call 503-200-3333, ext. 106.

Mac McLean is a writer living in Bend.