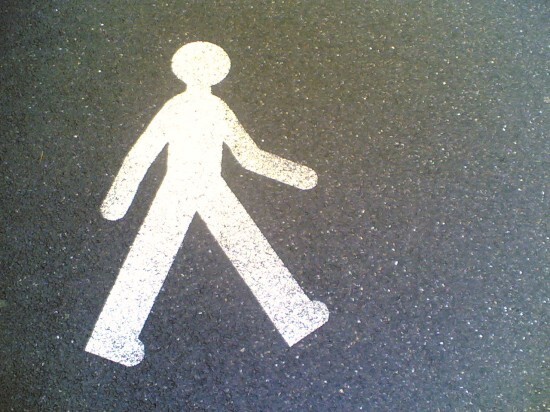 The difference between breaking and keeping those New Year's resolutions can be as simple as a pair of walking shoes. After driving, walking is the most popular means of travel in the United States. It's easy, cheap and gentle on the body and environment. Doctors recommend adults engage in physical exercise for at least 30 minutes a day, five or more times a week, to maintain and improve health.
But how walkable is your neighborhood? Too many communities are designed for car travel, with little consideration given to the needs of walkers. Sidewalks that are too close to roads, not well maintained -- or even missing altogether -- are all factors that discourage people from walking regularly. So, before you lace up and head out on your walk, do a quick survey of your neighborhood's walkability. To begin, it's as simple as answering the following five questions:
Do you have room to walk?
• Are there existing sidewalks, paths or shoulders?
• Do you have sidewalks that are blocked, broken or cracked?
• Do the sidewalks start and stop in a way that makes it difficult to walk uninterrupted?
Is it easy to cross the streets?
• Is the road too wide?
• Are there crosswalks and traffic signals?
• Are the traffic signals timed incorrectly (i.e., do they make you wait too long or do they not give you enough time to cross)?
• Is your view of traffic blocked by parked cars, trees or plants?
• Are curb cuts missing or in need of repair?
Do the drivers behave well?
• Do drivers back into streets without looking?
• Do they watch for and yield to pedestrians? (Drivers who cut in front of pedestrians in a crosswalk unwittingly put the pedestrian in a blind spot for other drivers.)
• Do they drive too fast?
• Do drivers stop too close to crosswalks?
Is it easy to follow safety rules?
• Can you cross at crosswalks or in areas where you can see and be seen?
• Can you walk on sidewalks or shoulders facing traffic?
Is your walk pleasant?
• Is it well-lit?
• Is the area dirty, littered or polluted?
• Is there lots of traffic?
• Are there resting places?
If you see anything that needs improvement, take action. Tools including AARP's Create the Good "Sidewalks and Streets Survey" or Walk Score, provide more comprehensive assessments of your community's walkability and suggest ways to improve its walk score. The pay-off is worth the effort. Neighborhoods with higher "walk scores" tend to have less traffic and pollution, higher property values, and residents who are healthier and have more social interaction with their neighbors. Plus, the more you walk, the better you'll feel!