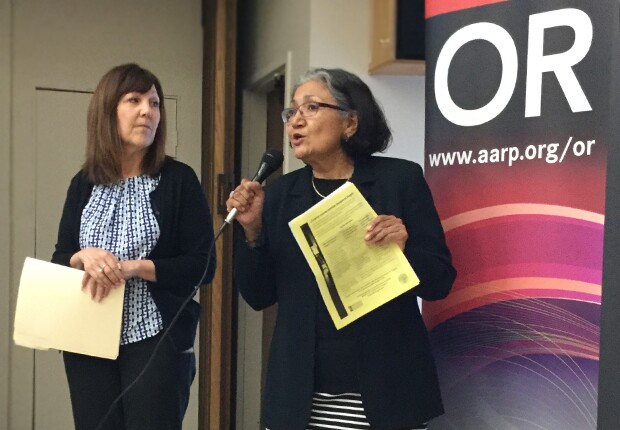 By Mac McLean

Juanita Santana knew exactly what came next when she retired from her job as director of a Head Start program in San Francisco. She moved to Portland in 2010 and became a full-time caregiver for her parents.

That took up so much time that she never thought about what life would be like after they died, which happened a few years later.

"It was real difficult for me to find my niche in retirement," said Santana, 66. But she found a rewarding role when she joined AARP Oregon's Diversity Advisory Council in 2013.

She serves as a liaison between the AARP staff and the state's Hispanic community. It's one of many volunteer opportunities AARP Oregon offers for people looking for what's next.

"Volunteers play a critical role in our work," said Bandana Shrestha, AARP Oregon's director of community engagement. "We wouldn't be able to do what we do without them."

Santana started writing letters and giving testimony about issues she had faced as an older Hispanic woman and a family caregiver.

She also discovered that five simple words—"I am with AARP Oregon"—made a huge difference in how people listened to what she had to say.

"I truly believe that gives my message a totally different connotation," said Santana, who doubts she would be able to command as great an audience without AARP's help.

By volunteering with AARP Oregon, Santana learned about the state's new retirement savings plan, OregonSaves, and was appointed to the board of directors. She has also worked on health care issues as a member of the Oregon Health Authority's Metrics and Scoring Committee.

Filling a big need
"The work we are doing is having an impact on very large groups of people across the state," Santana said. "It's been a wonderful experience. Staying involved and busy with AARP Oregon keeps me active and enjoying my life."

Serving the state's 500,000 AARP members is a big job for AARP Oregon's seven paid staff members. That's why the organization relies on a network of several hundred volunteers, who keep it connected with the communities it serves.

In Washington County, a retired city planner is working on transportation and community design projects as part of AARP Oregon's Livable Communities initiative.

Another volunteer works with an LGBT aging group in southern Oregon to ensure that the area's long-term care facilities are welcoming to all.

"There's a whole range of opportunities," Shrestha said. People can find opportunities to serve with the AARP Foundation Tax-Aide program, Smart Driver courses, caregiver support groups and the Fraud Watch Network.

Shrestha has also matched people with opportunities in the Senior Health Benefits Insurance Assistance program, which helps people choose a Medicare plan, and the Long-Term Care Ombudsman Program, which lends its voice to people in long-term care facilities.

"Older adults have a lot of experience," she said, noting that AARP began as a volunteer-driven organization. "We want to leverage that experience so it serves all of Oregon."

To learn more, email oraarp@aarp.org or call 866-554-5360 toll-free.

Mac McLean is a writer living in Bend, Oreg.