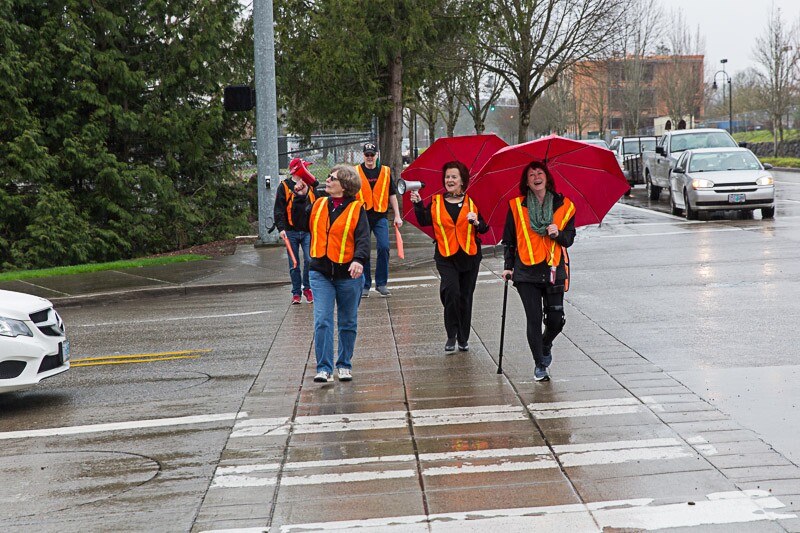 By Merry MacKinnon

For retired bookkeeper Chris Anderson, a walking-based exercise routine works best when done with a group. "I like the structure," she said.

Anderson, 66, had explored Portland neighborhoods for years with a group called Senior Strolls. Starting in 2005, Donna Green of the Portland Bureau of Transportation (PBOT) ran the award-winning, free guided walking program for older adults.

After funding for Senior Strolls was cut, AARP Oregon, in collaboration with PBOT and the nonprofit Oregon Walks, recast the program as NeighborWalks.

"When AARP took over NeighborWalks, it became more multi­generational," Anderson said. "Some participants bring children or grandchildren."

The walks have become "wildly popular," said Linda Ginenthal, a former PBOT programs manager.

Organizers of NeighborWalks' kickoff event in 2015 expected about 20 participants for a tour of the Irvington neighborhood. Instead, 100 people showed up.

"We were surprised and absolutely thrilled," said Bandana Shrestha, AARP Oregon director of community engagement.

Some NeighborWalks events draw crowds that take up three or four blocks. "They need a police escort," joked Anderson's husband, Tim.

Tim Anderson, 66, has osteoarthritis. At NeighborWalks, he rides a motorized scooter near the back while his wife walks up front to hear guest speakers, including Julia Strang Dwyer, a neurological physical therapist.

"Don't look at your feet," she advised walkers. "Look 10 to 15 feet in front of them."

A sociable experience
AARP Oregon wanted a program that encouraged socializing, promoted walking and celebrated diverse neighborhoods.

"We knew how important physical exercise is and how isolation can become an issue with age," Shrestha said. "We dove in."

Virginia Hancock, a retired Reed College music professor, said she's proof that walking is great exercise. "I'm 77 years old and I'm still moving," she said.

Currently in its fourth season, NeighborWalks has 16 walks scheduled for 2018.

Trained AARP volunteers pick routes, lead walks, describe points of interest and herd everyone through crosswalks. "We couldn't have done it without our volunteers," Shrestha said.

This year the program is adding destinations in adjacent counties and the cities of Eugene and Medford.

One group of volunteers researched four routes in Washington County, including one that's wheelchair accessible.

"We met for a few months, mapped some routes, then went and walked them," said Hal Bergsma, 68, a volunteer with AARP Oregon who directed planning for Tualatin Hills Park & Recreation District before retiring.

"They're very good about helping people who are less mobile," Hancock said.

NeighborWalks events take an hour and a half to two hours and range from 1.5 to 2.5 miles. Each follows a loop that ends where it starts. Participants of all ages, the visually impaired and those with mobility devices are welcome.

Meeting places are often close to public transit.

"It's a great way to stay active, it's fun, it's an easy entry point to walking, and it's social," Ginenthal said. For the 2018 schedule of walks, go to states.aarp.org/neighborwalkspdx2018.

Merry MacKinnon is a writer living in Portland.