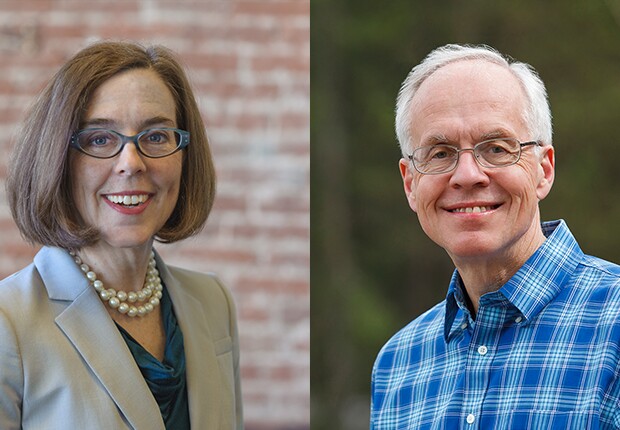 By Merry MacKinnon

In the Nov. 8 election for governor, Kate Brown, 56, the Democratic incumbent with 25 years in politics, faces Republican Bud Pierce, 60, an oncologist with no elective political experience.

The winner will serve the two years left in the term vacated by Gov. John Kitzhaber. Last year, then Secretary of State Brown assumed office after Kitzhaber resigned.

The candidates responded by email to questions posed by the AARP Bulletin about key issues, including the impact of the state's Public Employees Retirement System (PERS) and rising health care costs.

Housing costs are also an issue. As real estate prices soar, tenants, particularly older renters on fixed incomes, are being squeezed by rising rents, no-cause evictions and mobile home park closures.

Brown has backed legislation to protect renters and to encourage more affordable housing.

"State, local, and federal agencies and organizations must work together to expand affordable housing and help families avoid homelessness," she said.

Pierce supports allowing more land for development and "zero tolerance for people living on our streets by providing shelter programs. I am absolutely committed to much better mental health."

Oregon has one of the country's healthier economies, but revenue is not meeting the costs of state services, Brown said. Without more revenue, an expected shortfall of over $1 billion for 2017 could mean a 7 to 8 percent cut to state budgets, she said.

Due to decades-old investment promises, Oregon's public worker pension liability has ballooned. Last year, the state Supreme Court overturned the legislature's cuts to pension benefits.

Brown said she would keep PERS strong, avoiding fixes that "unfairly require future generations of workers to sacrifice a decent retirement."

Pierce said, "We can no longer support this system." He favors reforming PERS by switching annuities to market rates and other cost savings when paying new retirees.

Medicaid costs are also growing. Brown noted that 94 percent of residents, including 98 percent of children, have access to health care. But costs have escalated as more people with disabilities enrolled and long-term care case­loads increased.

Medicaid Issues
Pierce supports reducing enrollment in the Oregon Health Plan (Medicaid) by creating more employment with associated health care benefits and recruiting business leaders to help downsize government.

"We need to decrease the cost of providing government services by greatly decreasing the cost of government operations," he said.

If cuts become necessary, Brown said, she would shield older residents and those who are most vulnerable.

In March, Brown signed a bill to raise the minimum wage. Pierce supports the prior minimum wage, accelerated job growth and less regulation.

Brown backs Oregon's new state-sponsored retirement savings program for private workers. "Today, the average savings for Oregonians approaching retirement age is $12,000," she said. "Depending where you live, that's not even enough to cover rent in a single year."

Instead of the savings program, Pierce said he would reduce Oregon's inheritance tax and income taxes for lower-income people and phase out income taxes for workers ages 65 to 75.

"We can afford to better care for our aged and disabled seniors if more of us continue to work as we age by creating a more prosperous Oregon," Pierce said.

Merry MacKinnon is a writer living in Portland.