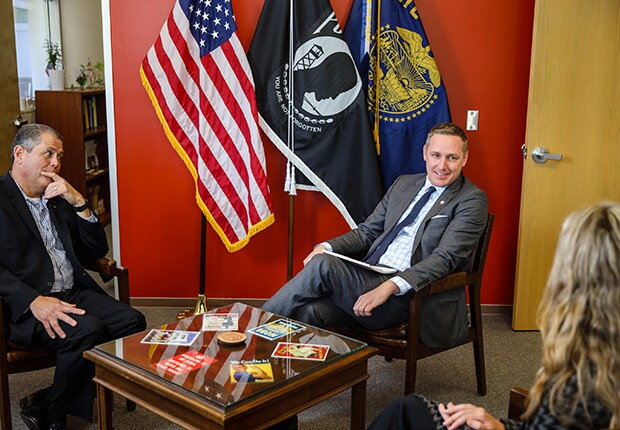 By Mac McLean

Cameron Smith has a simple message for the state's 311,000 veterans: We're here to help. But he's having difficulty getting that message across.

"Sometimes, our veterans have not been raising their hands," said Smith, director of the Oregon Department of Veterans Affairs (ODVA) since 2013. "We can do a much better job at helping them connect."

Smith launched a series of campaigns two years ago aimed at older, female and LGBTQ veterans. He's forming new partnerships with AARP Oregon and other groups to make sure all veterans and their spouses get the help they deserve.

"We've always supported veterans programs," said Joyce DeMonnin, AARP Oregon's communications and media relations director. "We do outreach and education efforts with them whenever we can."

Reaching female, gay vets
According to ODVA, Oregon's veterans received more than $116 million in pension and disability benefit payments each month in 2016. But Smith said only about a third of the state's veterans have met with a service officer to learn about their potential benefits.

This disconnect is particularly costly to older veterans because they could miss out on a wide range of benefits designed to help them lead healthy and independent lives, Smith said.

For instance, the federal Veterans Aid and Attendance pension benefit program provides qualified veterans or their spouses with money they could spend on home health care services.

Other services include the housebound pension benefit program for veterans who cannot leave home due to a disability, medical services provided by the federal Veterans Health Administration, and the state veterans homes in Lebanon and The Dalles, which provide their residents with skilled nursing care.

"We want to make sure veterans have all the benefits and care they need," DeMonnin said. She noted that AARP works to protect benefits and programs that serve veterans as well as the state's general aging population.

"What we do, we do for all," she said.

Smith said the passage last year of Ballot Measure 96, which dedicates 1.5 percent of the state's lottery proceeds to veterans services should help his agency reach more veterans.

This victory followed the passage of two bills during the 2015 legislative session that created positions focused on reaching female and LGBTQ veterans.

"It means the state's women veterans have someone they can go to," said Elizabeth Estabrooks, the state's women veterans coordinator.

Estabrooks said people often don't think about women when they think about veterans, and that creates situations where female veterans may miss out on the programs or services that they need.

She noted that while the average male veteran is 63, the average female veteran is 48. She said these two facts call for a new approach to veterans' outreach that is both inclusive of women veterans and also recognizes the differences between them and their male counterparts.

Nathaniel Boehme, the state's LGBTQ veterans coordinator (and the first in the nation), said people should also use a different approach when working with veterans who identify as lesbian, gay, bisexual, transgender or queer.

People in these communities may suffer from anxiety or depression if the reactions of others make them feel different or abnormal, he said, adding this experience could keep them from getting help. Their experience as veterans also sets them apart and carries its own rules of engagement.

"Oregon has a lot of really good LGBTQ-serving organizations and a lot of really good veterans organizations," said Boehme, who hopes to bridge any gap between the two types of organizations.

To learn more about veterans benefits and resources in Oregon, go to oregon.gov/odva or call 800-692-9666.


Mac McLean is a writer living in Bend, Ore.