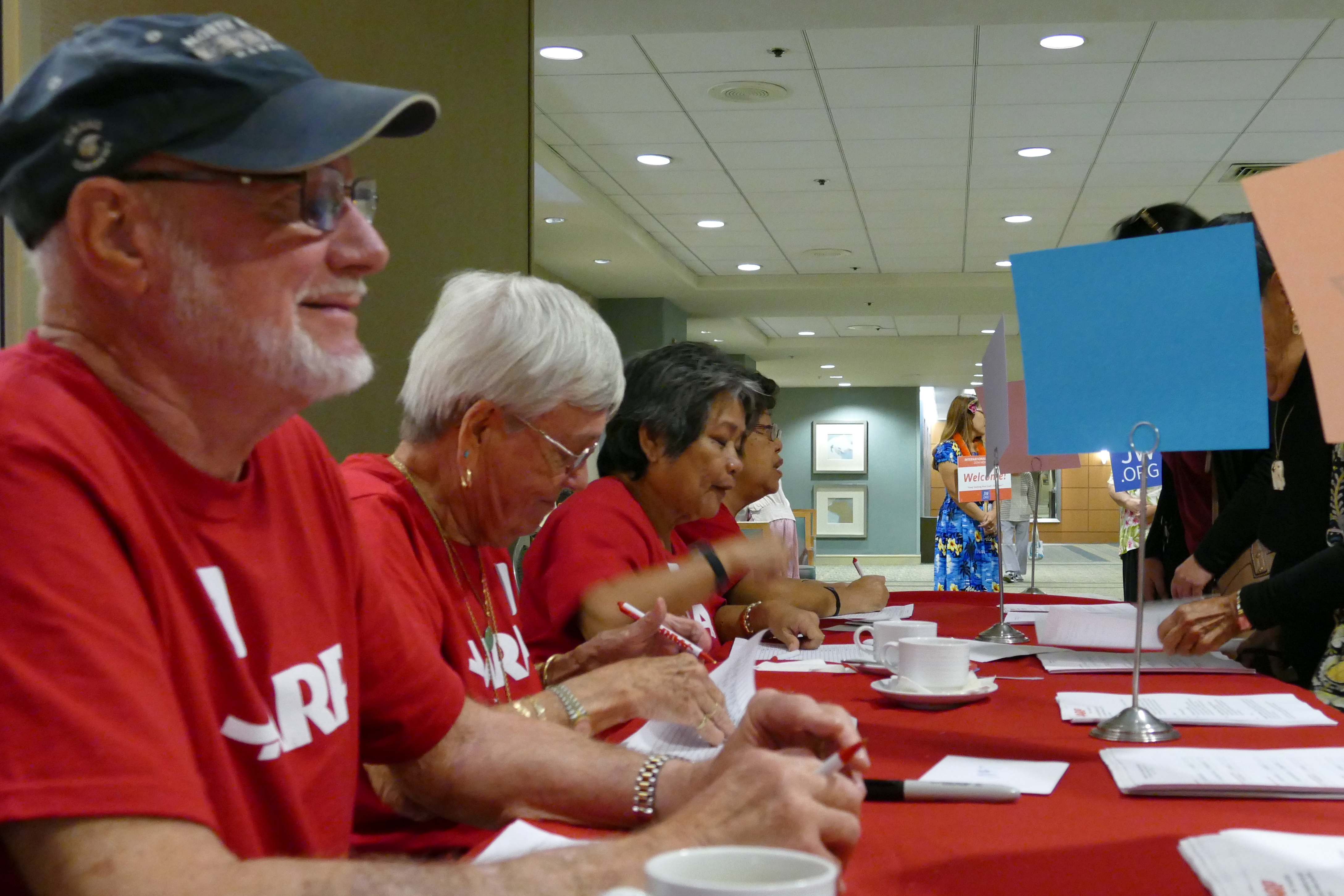 Gwen Burkard wanted to meet new people when she moved to Eugene 10 years ago. She wanted to stay active. And she wanted to be a part of something bigger than herself.

Her main problem: She didn't know where to start. At least not until she found AARP.

"Volunteering for AARP was the first step on the way to becoming an active member of my community," says Burkard, 73.

She started volunteering with AARP Oregon in 2016 and says her involvement helped her find the niche she'd been looking for when she moved back to the United States after living in Ireland for 14 years.

She made new friends, found activities to keep her fit and healthy, and, more importantly, found ways to connect with her community and take a stand on issues she cares about.

AARP Oregon is looking for people who can join Burkard in those efforts. The organization is hoping to boost volunteer recruitment with its Give the Gift of Time campaign during the month of December.

Volunteers can fill a range of roles at the organization, and how much and where they help varies widely, says Stacy Larsen, who is AARP Oregon's communications director.

Finding connections

Burkard's life as a volunteer shows what can happen. She only knew two people in Oregon when she moved there in 2012. She has a son in the state, but he's in Portland.

"When I moved back to the States, I lived in an area that I didn't know, where I didn't know anyone," Burkard says.

She found a full-time job working at a retirement community, which gave her something to do but also came with a 40-hour workweek that made it hard to participate in daytime activities geared toward retired adults. While Burkard was constantly around people, she says they never really socialized after work.

She was initially a bit hesitant to start volunteering with AARP, thinking it catered to retirees who lived a life of leisure and played golf or tennis all day.

Carmel Perez Snyder, AARP Oregon advocacy and outreach director, helped bring Burkard into the fold, matching her up with activities that didn't interfere with her job.

Burkard helped with AARP's NeighborWalks, which highlight points of interest in communities around the state. She advocated on housing issues to the state Legislature and Eugene City Council. And she joined AARP Oregon's Executive Council, which helps the organization set its goals and priorities.

Among those are recruiting members for the council, which also works on initiatives such as efforts to build livable communities and to set up caregiver support programs. Council members also helped advocate for the state-facilitated retirement savings program OregonSaves, now in its sixth year.

Moving online—and then back

AARP Oregon pivoted to online gatherings during the COVID-19 pandemic, but as cases eased, gatherings began moving back to being held in person.

The organization's first post-pandemic volunteer summit took place in September.

J. Michael Schultz, 69, of Portland, is AARP Oregon's volunteer state president, and says he could see the strength of the pandemic's virtual connections just by watching as people entered the summit's meeting room.

"There was so much warmth," Schultz says of the hugs, laughter and smiles that spread from table to table as people who had only interacted virtually had their first face-to-face meetings.

Learn more about volunteering with AARP Oregon by visiting aarp.org/or or calling 866-554-5360.

Mac McLean is a writer living in Bend, Oregon.

Retirement Savings Made Easy for Employers and Employees - AARP
More on volunteering: