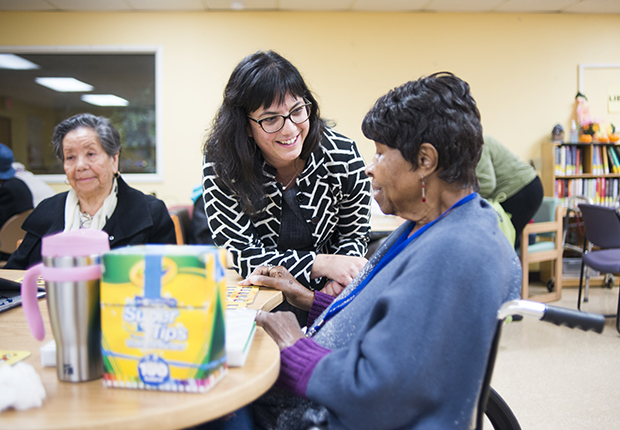 By Mac McLean

Alison Bookman-Skidmore can see pure relief on the faces of family caregivers who pick up their loved ones from the two adult-day-service centers she manages in Portland.

"It gives caregivers a break, makes their jobs more manageable and gives them some time to themselves," said Bookman-Skidmore, a program director at Volunteers of America Oregon.

But relief does not come cheap. A single day at either facility costs $75 for those without Medicaid benefits. Bookman-Skidmore said the cost can be prohibitive.

AARP Oregon hopes to ease this burden by working with state officials to create a Medicaid waiver program that would use $3 million in state and federal funds to help people who don't receive Medicaid benefits pay for these services.

Jon Bartholomew, AARP government relations director, said that with the state's budget uncertainty, some legislators might see this as a hard sell. But, he contends, "what they aren't seeing is the cost of not doing it."

More than 34.2 million Americans provided care to someone 50 or older within the previous year, according to a 2015 report from the AARP Public Policy Institute and the National Alliance for Caregiving.

The average family caregiver spent 24.4 hours each week helping their loved one with routine tasks: getting out of bed, driving to an appointment, preparing meals and doing housework.

Many caregivers also reported that these responsibilities left them with emotional stress, poorer health and strained finances.

The need for respite care
Providing access to affordable respite services—like adult day centers, in-home care services and even short-term stays in an assisted living community—eases this burden by allowing caregivers to take a break because they know their loved one is safe.

This idea led AARP Oregon and other members of the Oregon Caregiver Respite Work Group to review the state's respite care network in 2016 and make recommendations.

The Medicaid waiver program—which Bartholomew said would be a top priority when the state legislative session starts Jan. 22—was near the top of the list.

The program would make it possible for people who earn less than 400 percent of the federal poverty level ($48,560 for an individual, $65,840 for a couple this year) to get help paying for respite care services.

The state Department of Human Services' Aging and People with Disabilities program has already requested $1.8 million to get this program started in the 2019-20 budget. It expects the federal government to provide another $1.2 million.

"By spending money on respite now, we should save money by delaying entry into the Medicaid health care system and reducing health care spending for family caregivers," Bartholomew said.

The waiver program might create a new market for adult day services. The work group found that only 21 such programs existed in Oregon when it released its report in 2016, and just one was east of the Cascades.

"We need more adult day services," said Bookman-Skidmore, who hopes those using the new programs will experience the same sense of relief that caregivers get from hers.

Mac McLean is a writer living in Bend.