AARP Tennessee volunteers are starting a new blog series - "Outsmart the Scammers" - with this post from Fred Fields to kick off National Consumer Protection Week:

By Fred Fields




I know that I've become hypersensitive to frauds and scams ever since I was asked to appear on "AARP Live" to talk about ways to avoid con artists, but I'm amazed about how prevalent the problem is.

Just this weekend, a scammer called my daughter and tried to tell her that the DEA was going to show up at the doorstep because she had supposedly been ordering illegal drugs over the Internet. She started asking the caller probing questions - and he hung up before he got to the point where he asked her to wire transfer the "fine" that she "owed!"

A few weeks ago, my brother told me he got a call from someone saying that there was a problem shipping the item he had purchased via computer, and asked for his credit card number. Thank goodness, he didn't have his credit card nearby. He became suspicious, contacted the company and learned that there was no problem - that the item was on its way!

In Knoxville, near my home of Norris, Tennessee, a woman recently got a call from someone claiming to be from Medicare, saying that she needed a new card and asking for her personal information. Fortunately, she soon realized that something was wrong. The scammer called her "stupid." But we know she was very smart.

Far too often, people don't recognize a scam. Fraud is actually a $50 billion industry in the United States, according to the National Consumers League. In Tennessee, some 26,000 people reported that they lost $24 million during a one-year period. But that's just the tip of the iceberg!

A recent "AARP Live" show on scams was quite eye-opening. I greatly appreciated being on the show with AARP South Dakota State Director Sarah Jennings and Washington State Director Doug Shadel, who has written a book about scams.

Just check out these videos about Security System Scams, the  Jamaican Lottery Scam, You've Won a FREE ... Scam that we shot in the RFD-TV studios after the show.

Many people who are scammed don't want to admit it. But if they keep it to themselves, they aren't helping their neighbors. So please, if someone tries to con you out of your money or your identity, report it to the authorities. That's the only way that we can educate people.

The fact of the matter is that these scammers are professionals at finding ways to push our buttons – to make us act without thinking things through until it's too late.

But we can work together to outsmart the scammers, by telling one another about them. In honor of National Consumer Protection Week, we offer you characteristics of a scam from the Consumer Affairs Division of the Tennessee Department of Commerce and Insurance and the National Consumers League:

Promises that you can win money, make money, or borrow money easily;
Asks for money to enter a contest, win a sweepstakes or lottery, or claim a prize;
Refuses to send you written information before you agree to buy or donate;
Refuses to give you a physical address;
Refuses to give you the details of the offer before you make any payment;
Requests your bank account or credit card number when you are not making a purchase with that account;
Uses scare tactics or pressure to act immediately;
Insists that you wire money or have a courier pick up your payment;
Refuses to stop calling after you've asked not to be called again;
Contacts you to ask for personal information the company already has:
Gives you a check or money order and asks you to send some of the money somewhere:
Appeals to emotions by purporting to represent an organization providing relief after a tragedy;
Emails or calls from "relatives" saying they need money to to shepherd an inheritance from another country to American banks;
Due-date-bearing mailers that are written to scare a recipient into thinking they must obey the terms of a message;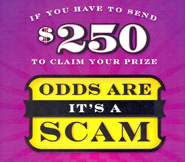 Hoax-detection sites like Snopes can be really helpful. Scam messages tend to not hold up well under prolonged scrutiny. Scammers count on duping someone into acting quickly and realizing their error after they've sent money or personal information. You can also get great tips and information from the Federal Trade Commission, the Better Business Bureau and the U.S. Postal Service.

Bottom line? If it sounds too good to be true, it probably is.

Stay smart and scam free!