Hi everyone! It's AARP Illinois staffer, Kathy Klaper, back to talk to you about your pets and how they can offer support to loved ones.
How many of you have pets? As a pet owner of two Brittney Spaniels, I love my boys and consider them family. Kozmo is 13 years old and Komet, my baby, is 7 years old. Kozmo is my "first born" and Komet is my independent little fellow who likes to take all the attention away from Kozmo ;)
Today, Kozmo gets all the attention as he's the hero of this story! I've had him since he was three months old and when I went to the breeder to pick him up, my dad was with me. The minute they met there was an instant bond between them. Kozmo became an important part of our family as well as a friend and protector. He's never been a barker, alerting us only if something was unfamiliar. He's gentle with babies and children and loves to be pampered. Most of all he anticipates and feels someone's pain and offers support to those he loves.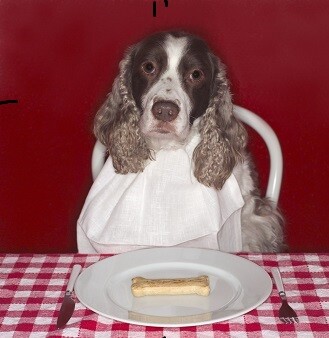 The first time I noticed Kozmo's behavior was when my mom's Alzheimer's Disease started to progress. On days when mom was having a hard time, Kozmo was the only one mom wanted around. She would hug and kiss him and take in all the love he had to offer. Her mean spirit calmed down and, in an instant, she was stress free. When mom passed away at home in 2003, Kozmo laid by her side until the paramedics arrived. When they were ready to take her out of the house, he kissed her and said his goodbyes.
After mom died, Kozmo then turned his attention on my grieving father. Constantly by his side, Kozmo became his protector and caregiver. I gave my father a whistle to wear on his wrist and one night he fell and sustained a cervical fracture. He was able to blow the whistle and Kozmo started barking up a storm letting me know about the emergency.
When I got downstairs, there was Kozmo laying by dad's side with his head on his chest. After dad's hospitalization and surgery, he was in a nursing home for rehab. He had been gone for several months and I could see Kozmo missed him. I decided that both dad and Kozmo needed a reunion, so I got approval from the facility to bring Kozmo in for visits on Sundays. Dad and Kozmo were happy campers! Every Sunday, Kozmo would visit dad and all the other residents in their rooms. Kozmo became a nursing home star! After dad was discharged from rehab, I continued to take Kozmo on monthly visits to see his new friends. When dad died, Kozmo grieved along with me. He offered support during difficult times and relief during stressful times.
In the last few years, pets and trained therapy dogs have become part of the regular treatment routine for both children and adults in hospitals and nursing homes. Dogs and cats can relieve stress and enhance the quality of life for patients and residents.
Has your pet helped you through rough times? Share your story! Do you know a therapy animal doing great work? Tell us about him/her.
Resources:
For more information on Therapy Pets check out Therapy Dogs, Inc. - they provide registration, support, insurance and great advice for members who are involved in volunteer animal assisted activities.

If you're interested in rescuing a pet, don't forget shelter animals! Visit PAWS Chicago