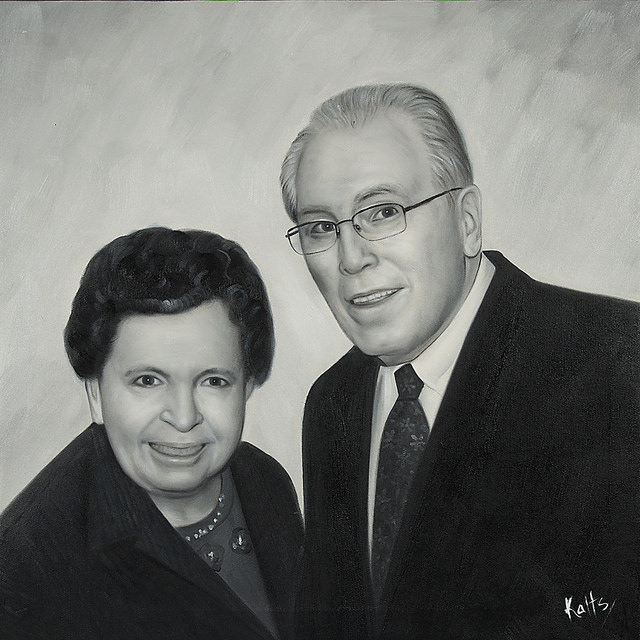 November marks National Family Caregivers Month, a time to recognize the 40 million Americans – nearly 500,000 from Connecticut – who help older parents, spouses, and other loved ones live independently at home, where they want to be. The unpaid care they provide – managing medications, cooking meals, driving to appointments, performing complex medical tasks and more – is valued at about $5.9 billion in Connecticut alone.

AARP Connecticut is recognizing Wayne Detzler of Cheshire CT with a Portrait of Care, an artist's painting of him and his wife, Margaret. Randomly selected through AARP's storytelling initiative, I Heart Caregivers, Wayne is one of 53 family caregivers from every state, Washington D.C., Puerto Rico and the U.S. Virgin Islands receiving a hand-painted portrait. Thousands have shared their stories on the site.

"We want to celebrate family caregivers, spotlight their experiences of hope, love, dedication and perseverance, and elevate their stories – especially during National Family Caregivers Month," said Nora Duncan, AARP state director in Connecticut, which serves nearly 600,000 members in Connecticut, as well as all residents age 50 and older. "This is especially important as we work to support family caregivers through public policy, education, outreach and more."

Wayne and his wife, Margaret, both professors, traveled the world until Alzheimer's disease took her memory. Now, after three years, at age 79, he remains Margaret's primary caregiver in their home at Elim Park. Wayne still teaches online courses and serves as a chaplain part time.

Supporting Family Caregivers
"Family caregivers are the backbone of our care system, serving a crucial role in helping older Connecticut residents and other loved ones remain in their own homes and communities," Duncan continued. "That's why AARP is fighting for commonsense solutions to help make their big responsibilities a little bit easier - like the recently enacted CARE Act, as well as greater workplace flexibility and 'respite care' that allows caregivers to take a hard-earned break".

In 2015, AARP was successful in passing The Caregiver Advise, Record, Enable (CARE) Act to help family caregivers when their loved ones go into the hospital and as they transition home. The CARE Act was signed into law by Gov. Malloy and took effect on October 1. "Every day, AARP Connecticut goes to work at the state capitol to make this kind of support a reality," said Duncan, "because supporting family caregivers is a priority for all of us."

As the 2016 state legislative session approaches, AARP is gearing up to work:

for workplace flexibility so family caregivers don't have to worry about losing their pay – or losing their jobs – when they have to take time off work to bring their older loved one to a doctor's appointment.
for "respite care" that allows family caregivers to take a hard-earned break.
to make sure caregivers have access to the right resources in the community, like home care and adult day care.


"Family caregiving is really an issue that impacts us all," Duncan concluded. "It's not a Democrat issue. It's not a Republican issue. It's a family issue."

Download the Connecticut Caregiver Resource Guide in 2015 Connecticut Caregiver Resource Guide or 141312 Care CT Caregivers Resource Guide_SP_R3_lores-FINAL.

Request your free CARE Act wallet information card. Find additional resources for family caregivers at www.aarp.org/caregiving.