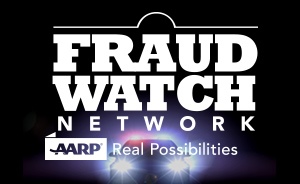 Identity theft, investment fraud and scams rob millions of Americans of their hard-earned money every year. Research shows that more than $20 billion was stolen from about 13 million victims in 2012, according to the latest Javelin Strategy and Research reports on identity fraud. Older adults tend to be bilked out of about $3 billion every year. Con artists use a myriad of scams to steal your hard-earned money, including phishing scams, tech-support scams, gold coin scams, oil and gas scams, sweepstakes and lottery scams, grandparent scams and many more. Although their methods are different, research shows that the tactics scammers use are the same. Find out how to protect yourself and your family from con artists' latest tricks. Go to aarp.org/fraudwatchnetwork, or call 1-877-908-3360 for more information.

CURRENT SCAM ALERT:
If you were tricked into wiring money to scammers using Western Union, you may be eligible to get at least some of your money back. The Federal Trade Commission and Department of Justice (DOJ) came to a $586 million settlement with Western Union earlier this year. If you sent money through Western Union between January 1, 2004 and January 19, 2017, and lost it to a scammer, you may be eligible for a refund. Once DOJ collects the money from Western Union, it will open a process later this year called "Petition for Remission" for people to make claims. Visit www.westernunionremission.com to learn more and sign up to receive updates.

Be a fraud fighter! If you can spot a scam, you can stop a scam.

Report scams to local law enforcement. Contact the AARP Fraud Watch Network at www.aarp.org/fraudwatchnetwork for more information on fraud prevention.