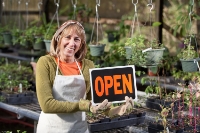 Boomers are constantly redefining what it means to retire. The closer they get to retirement age, the more they're becoming entrepreneurs and enterprisers. Enter AARP's Life Reimagined program. Life Reimagined was launched to address the unmet needs of millions seeking inspiration, information and guidance.

Its goal is to help turn peoples' goals and dreams into real possibilities through online and offline programs, experiences, resources and services that help people adapt to their new life phase and live their best lives.

"Many boomers are in a transitional phase," said Michelle Cyr, AARP Florida Field Coordinator for Tampa Bay. "They have dreams and aspirations, but they don't always have the tools they need to reach them. Our goal is to help connect them with resources through the Life Reimagined website and community events."

In the Tampa Bay area AARP is bringing the experience even closer by partnering with Encore Tampa Bay, a local endeavor started in 2012. Encore Tampa Bay is a branch of an international social movement that encourages older Americans to pursue their dreams. Mark Freeman started the movement 15 years ago when he published the book Encore, and now people over 50 all over the world are changing the rules of what retirement is.

Encore Tampa Bay's founder, Bevan Rogel, knew firsthand what it meant to lose passion for her work, so she committed herself to helping other Boomers having the same issue. She had a background in organization development, and she used her skills to start Encore Tampa Bay. There are three steps to Encore – to "identify" your passion, "re-tool" for the career you want, and "connect" with opportunities.

In 2013 Encore Tampa Bay worked with AARP Florida to present workshops through the Encore Academy, to help educate entrepreneurs and help Boomers find their passions. In 2014 the two will continue to partner to bring the information to a wider audience. "Working with AARP has been a match made in heaven," Bevan said. "I can't wait to see how many boomers we can help in the future."

For information on Encore Tampa Bay and upcoming workshops, please visit: http://encoretampabay.com/greenhouse-encore-academy/

Visit the Life Reimagined and Work Reimagined website to access tools, articles, and opportunities to connect.