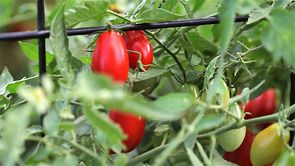 If your 2013 resolutions seek to improve your community, AARP Ohio can help.
In this season of reflection and resolutions, AARP Ohio would like to introduce you a few of the thousands of volunteers who are improving their communities and enriching their lives.

James Williams of Cleveland sees a brighter future when the young people he tutors greet him with a smile. Enthusiasm envelops James, an AARP Experience Corps reading tutor, and his students as they learn and increase their confidence.
Ed Cokley of Dayton had one of his best days of 2012 when the AARP Drive to End Hunger food drive in his community collected an astonishing 3,200 pounds of food for hungry seniors in just six hours.
LaDonna Pope of Cincinnati counts 2012 as one of her best because she inspired creation of the AARP Ohio Giving Gardens that supply fresh vegetables to vulnerable older adults via Wesley Community Services. Watch the short but inspiring video below to learn more about AARP Giving Gardens.


AARP Ohio Giving Gardens from AARP Ohio on Vimeo.

In addition, AARP Ohio volunteers are engaged in a variety of legislative advocacy efforts and community outreach, education and information projects. Our volunteers complete income tax returns for moderate and low-income taxpayers and teach driver safety classes. They represent the interests of nursing home residents as long-term care ombudsmen, and help low-income Ohioans get financial assistance as Benefits Bank counselors.

If you have resolved to give in 2013, resolved to grow, and want to help in your community, we can help connect you with opportunities. Please tell us about your volunteer interests and availability and we'll contact you about opportunities. Or visit Create the Good for a list of projects in your community offered by other organizations or ideas and project plans to lead your own effort.