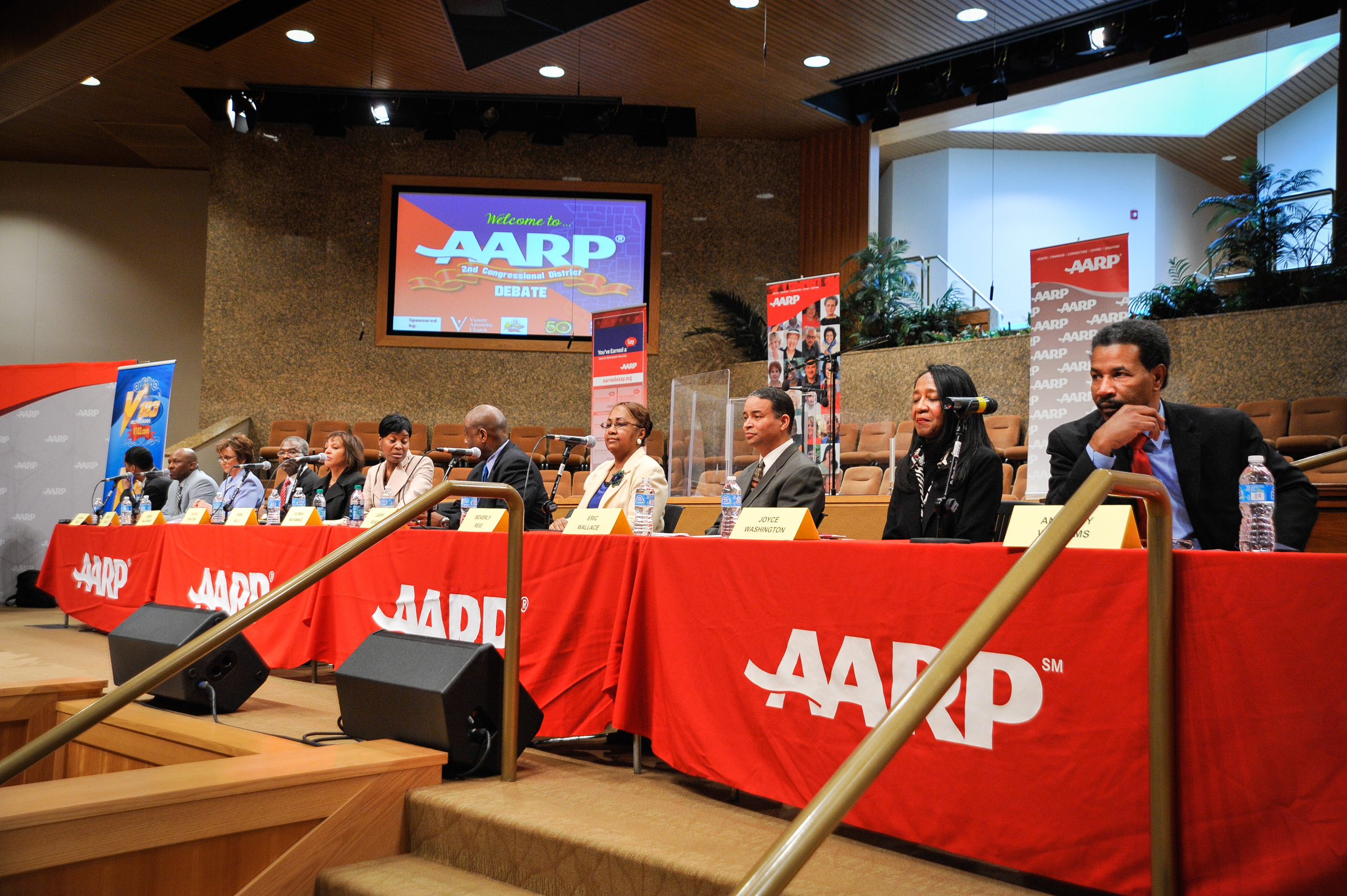 Matteson, Illinois - More than 600 residents of Illinois Congressional District 2 on President's Day filled the pews at Victory Apostolic Church in South Suburban Matteson for a lively discussion on the future of Social Security, Medicare and retirement security at the AARP-sponsored Candidates' Debate.

Eleven of the candidates running in the special Congressional District 2 primary participated in the two-hour long debate, including: Anthony Beale, Ernest Fenton, Debbie Halvorson, Victor Jonathan, Robin Kelly, Fatimah Muhammad, Larry Pickens, Beverly Reid, Eric Wallace, Joyce Washington, and Anthony Williams.

"With over 92,000 members in the 2 nd Congressional District, it's critical that voters hear from the candidates on the issues of Medicare and Social Security, and get straight answers about their plans to strengthen these programs," said AARP Illinois State Director Bob Gallo.

In his closing remarks, Ron Daly, a member of AARP's National Board of Directors and a resident of CD-2, reminded attendees to "keep the issues discussed here today on the top of your mind as you make your choice. We at the AARP believe strongly that the only way these issues will be addressed fairly is by having more people participate in the process and voicing their choice."

The debate was co-moderated by Ty Wansley, Information Director for Clear Channel Radio's Chicago Urban Network, and WVON's Midday commentator Perri Small. WVON live-streamed the debate, and the station will continue to make the debate available to voters for replay on demand until the Feb. 26 th primary on www.WVON.com. WGRB (Inspiration 1390AM) is rebroadcasting the debate in its entirety on Sunday, Feb. 24 th from 9:30 to 11:30 p.m.

The event is part of AARP's 27-year voter engagement and outreach work. AARP is nonpartisan and does not support or oppose any political candidates, nor contribute any money to political action committees, campaigns or super PACs. AARP's goal is to assist voters in knowing where the candidates stand before they cast their ballot.

For photos of the debate, please click here.