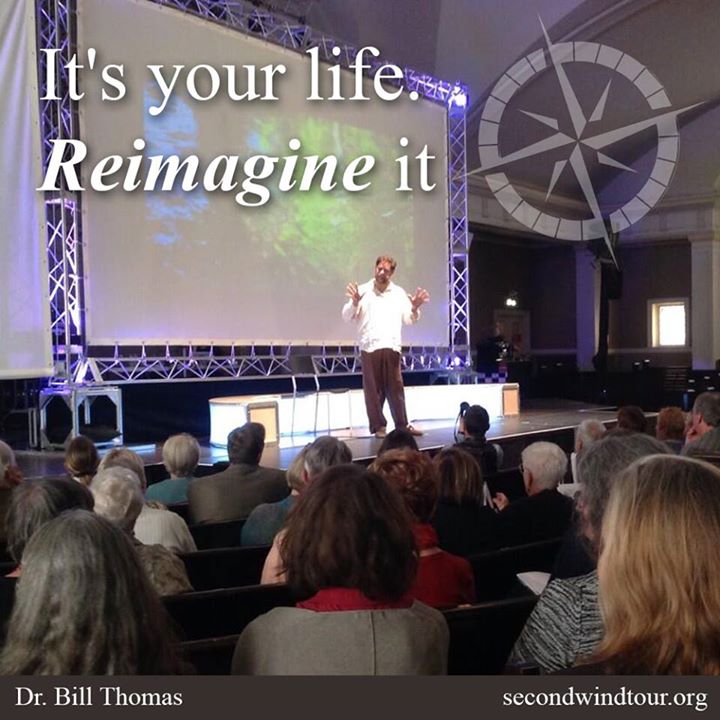 Dr. Bill Thomas, one of the most innovative and creative thinkers working in medicine today, is bringing is Second Wind Tour to The University of Hartford/Lincoln Theatre on June 5. The 25-city Tour, inspired by Dr. Bill Thomas' new book – Second Wind:  Navigating the Passage to a Slower, Deeper and More Connected Life -- is traveling the country, offering audiences the opportunity to explore what it means to catch a "second wind" in one's life and work.

Register today!

Well known as an inspirational writer, speaker and performer, Dr. Thomas is bringing a radical new approach to growth and aging through this national non-fiction theatrical tour produced in partnership with AARP's Life Reimagined, the Alzheimer's Resource Center of Connecticut and Capital Impact Partners.

Dr. Thomas combines his efforts to promote change in medicine and society with elements of artistic expression. The half-day performance – 1:00 pm to 5:00 pm – consists of two acts.

Act one is a series of theatrical monologues featuring a cast of speakers including Dr. Thomas and renowned consumer health expert and TV personality, Dr. Janet Taylor. The second act blends the illumination of the deep connections between music, identity and memory in the Sundance Audience Award-winning documentary Alive Inside, followed by a live musical performance by Musicians for World Harmony founder Samite Mulondo.

The Tour helps challenge the conventional narrative of decline as we age…and helps people to see, hear, feel and connect to the power that arises from finding a "second wind" in life.

Please join us on June 5 for this phenomenal afternoon of big ideas, art, music and culture. Be part of a new conversation that reframes "life after adulthood" as an exciting stage of human growth and development. And empower yourself and others to navigate this new life phase, explore opportunities, and live the best life.

Second Wind Tour
Thursday, June 5, 2014
University of Hartford, Hartt School/Lincoln Theatre
200 Bloomfield Avenue
West Hartford, CT

Schedule of Events:
1:00 to 3:00 Act 1: Reflect
3:00 to 3:30 Intermission: Connecting to a New Conversation
3:30 to 5:00 Act 2: Choose
Ticket price: Free

Registration is required. Please register today!