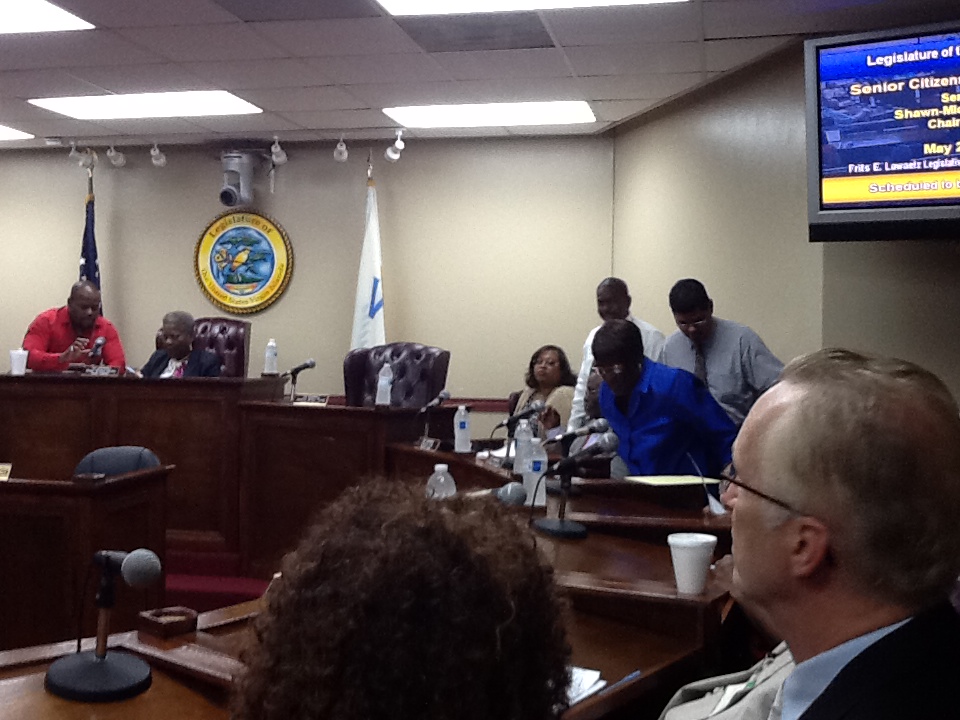 Written by Public Affail

Wednesday, 28 May 2014 15:55

St. Croix—Senate President Shawn-Michael Malone hosted a Senior Citizens' Mock Session on Tuesday, May 27, 2014 in the Frits E. Lawaetz Legislative Conference Room on St. Croix as part of activities associated with Older Americans' Month.

Virgin Islands seniors debated bill No. 30-2014 - an Act seeking to amend the Virgin Islands Code as it pertains to the Government Employees Retirement System.

Seniors representing the 15 Senators on the floor were; Helen Hart-Shawn Michael-Malone; Edna Freeman-Craig Barshinger; Violet Bass-Janette Millin Young; Joseph Gilbert -Donald Cole; Ellen Daniel-Clifford Graham; Helen Edwards-Myron Jackson; Keith James-Clarence Payne; Lola Roberts-Tregenza Roach; Vera Falu-Sammuel Sanes; William Griswold-Judi Buckley; Bridget Walters-Diane Capehart; Dorothy Straun-Kenneth Gittens; Janet Phillips-Alicia "Chucky" Hansen; Maude Phillips-Terrence Nelson; Louisa Joseph-Nereida Nellie O'Reilly; and Dade Lee Thomas-Reporter.

The major concerns of the seniors on Bill No. 30-2014 included:

(1) The Government agency must demonstrate that an effort has been made to advertise and hire applicants form the Department of Labor, or other employment agencies, before a pensioner can be considered for government employment.

(2) The government agency must be able to demonstrate that the expertise possessed by a pensioner will substantially rectify the agency's crisis within less than 600 hours.

(3) Replacing the cap from $65,000 and replacing it with the Social Security Annual Contribution and Benefit Base.

The seniors all agreed that the Bill was too important to act on hastily. They voted on an amendment to send the Bill to its appropriate committee of jurisdiction for further consideration.

Senator Malone thanked all the seniors that participated in the mock session and those in the viewing audience.

"This is something I look forward to each year," he said. "In this case we had a good issue for debate given that so many of our older residents are part of the Government's retirement system. I truly appreciated hearing the views expressed by the seniors on Tuesday."

Senators at Tuesday's Senior Citizen Mock Session were: Shawn Michael Malone, Craig Barshinger, Judi Buckley, Diane Capehart, and Kenneth L. Gittens, Alicia "Chucky Hansen, Myron D. Jackson, Terrence "Positive" Nelson, Nereida Rivera-O'Reilly, Sammuel Sanes, and Janette Millin Young.